Paris Hilton introduces latest fragrance "Rosé Rush"
Press Release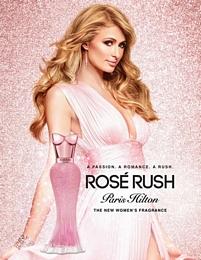 Paris Hilton announces the launch of her newest fragrance, ROSÉ RUSH Paris Hilton. Debuting summer 2017, the whimsical, flirty addition to Hilton's "GOLD RUSH" fragrance collection ushers in a new sophistication to the portfolio, exuding an effervescent charm and allure with a captivating edge.
Following the international success of GOLD RUSH Paris Hilton, ROSÉ RUSH marks the second feminine addition to Hilton's internationally-acclaimed "GOLD RUSH" scent assortment. Reminiscent of its predecessor, ROSÉ RUSH embraces old-Hollywood glamour, while drawing inspiration from the exhilarating "rush" one feels when falling in love.
"ROSÉ RUSH is a scent to evoke confidence and ambition within all women – particularly in the areas of love and romance," said Hilton.
THE FRAGRANCE:
Created by Perfumer, Richard Herpin of Firmenich, the Floral-Rose-Fruity fragrance opens with a flirtatious blend of Rose Petals, Neroli and Lychee. Rose of May and Peony mingle with Juicy Papaya at the mid, resulting in an alluring bouquet of femininity. Sparkling Amber and Cedarwood wrapped with White Musk round out the base, concluding the olfactive with a touch of opulence.
"I wanted to gather ingredients that would create an aura of femininity around anyone who wears the fragrance," said Herpin. "To achieve this, I wove together a multitude of Florals and enhanced the Rose Petal notes with hints of juicy pink fruits like Lychee and Papaya to create a fragrance of pure joy and delicacy. In the background, I added comforting and sensual elements of Musk, Woods, and Amber, to create a feeling of elegant extravagance every time the scent is applied."
THE PACKAGING:
A radiant addition to the enticing "GOLD RUSH" collection, the ROSÉ RUSH flacon reflects the signature distinct feminine form of its predecessor. The evocative silhouette is ornamented with rosé-tinted iridescent glitter emitting a luminous sparkle.
THE CAMPAIGN:
Reflecting the collection's signature style, the ROSÉ RUSH campaign is bathed in a rosé hue, with Hilton in a flirtatious stance exuding an aura of glamour and powerful femininity.
THE COLLECTION:
ROSÉ RUSH Paris Hilton Eau de Parfum 3.4 oz /100 mL $60.00
ROSÉ RUSH Paris Hilton will launch exclusively at Perfumania and Perfumania.com on July 11, 2017.

Posted: July 10th, 2017
Comments: none