Paris Hilton joins Darren Bousman's new musical Repo!-like movie!
Breaking News!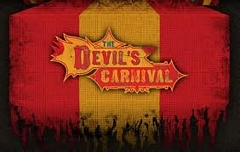 Paris Hilton confirmed to MTV that she has joined Darren Bousman's new movie called "The Devil's Carnival." Many of the casts of Repo! The Genetic Opera have also joined to the project. Last week, it was revealed that Terrance Zdunich and Bill Moseley were also among the cast, as well as actress Briana Evigan. The Devil's Carnival is said to be a very Repo!-like and musical movie. The shooting has already began, and Paris is expected to film it soon.
Not much is known about the project, but Bloody-Disgusting.com describes The Devil's Carnival as "a 45-minute experimental short about a carnival run by the devil. There will be singing and dancing, much like Bousman's Repo!." Below is a teaser video, and click here to visit the official website of The Devil's Carnival.

Posted: January 16th, 2012
Comments: 4
Comments