Paris Hilton Makes Boy Cry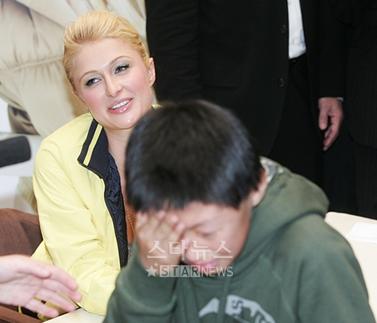 When I look at this picture, I can't help but wonder what makes this guy a fan of Paris Hilton and what made him cry. I also wonder how many people who meet Paris face-to-face tell her "Oh, I love your album. Can't wait for the second one" or "I'm very excited about Repo!" and "Oh, Paris! You're so beautiful and glamorous!"
Two types of fans, fascinating!
Posted: November 10th, 2007
Comments: 8

From: Django
Time: November 10, 2007, 11:17 am
I'm not sure what you're getting at with the two types of fans, but there's easily more than two types from your example alone:
The type that cries, the type that doesn't cry, the type that likes Paris's music, the type that likes Paris's movies, the type that thinks Paris beautiful and quite a few combinations of all these elements (I don't think liking Paris for her talent and her looks is mutually exclusive – I imagine many like her for both reasons, myself included and I don't think liking her for either reason makes any individual more or less likely to be an excitable crier, that's just another element that nature throws your way when you're born I guess).
From: Alex
Time: November 10, 2007, 11:32 am
i admit that if i ever meet her i probbly would cry haah
From: Ruben Contreras
Time: November 10, 2007, 12:51 pm
I'm a guy fan I cried when Paris hugged me!I told her I love you so much!
From: kevin
Time: November 10, 2007, 2:00 pm
OMFG IF I MET PARIS I WOULD CRY LIKE A BABY AND I KNOW THAT FOR A FACT! I WOULD CRY SO HARD BECAUSE IT WAS MY LIFE DREAM TO MEET THE BEAUTIFUL PARIS HILTON!!!
From: And_LV
Time: November 10, 2007, 2:47 pm
Why crying,necessary to be happy…
From: juju
Time: November 10, 2007, 10:53 pm
Aw, how sweet. i thinnk this is an adorable picture, he's really cute.
I'm not a crier by nature, but I definitely think I would cry if i were ever fortunate enough to meet paris.
I once met one of my favorite actors and when I went up to him all of a sudden, I could barely speak. I was shocked at how star struck I was. i never experienced that before.
From: Dawn
Time: November 12, 2007, 10:09 am
Paris is so sweet and she looks so good in the Fila clothes.