Paris Hilton on the cover page of the Winter 2015 S10 issue of Paper magazine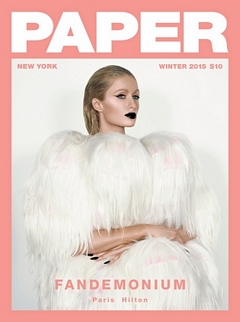 Globe-trotting model, business magnate and DJ Paris Hilton was as busy as ever this year, hosting her Foam & Diamonds party (an all-night dance rager that, yes, ends with the audience soaked in foam) in Ibiza and debuting a new fragrance line. In honor of our Fandemonium issue, dedicated to exploring what makes fans go crazy and photos and stories go viral, PAPER styled Paris like you've never seen her before and talked to her about her Internet habits.
What is the craziest thing you've done all year?
I lived in Ibiza from May to September and performed every Saturday night at my Foam & Diamonds party at Amnesia. I also toured throughout the week, playing all around the world.
What is something no one knows about you?
I'm actually really shy.
What is the most amazing thing about being you?
I feel blessed to be in a position where I can make a change for those less fortunate or give a voice to causes that need it.
What is the most stressful thing about being you?
The most stressful thing about being me is that I have such a crazy schedule with all my business endeavors that I constantly have to be on a plane flying around the world. I always have major jet lag.
When was the last time you were afraid?
When I was trapped in an elevator in China a few weeks ago. It was so claustrophobic that I could hardly breathe.
Read the rest of the interview here.

Posted: November 30th, 2015
Comments: 1
Comments