Paris Hilton Partners With PhotoBucket.com
—
Note: If you have Paris Hilton "Goddess" shoes, please contact me! A bit of help is needed.
—
Check out what a few fans have discovered on Photo Bucket!
Photo Bucket has added a Paris Hilton image editor. You can now add hair extensions, Tinkerbell, shoe, sunglass (etc) on your pictures. It's very simple and basic, but check it out.
You need have an account with Photo Bucket. Login to your account and go to http://photobucket.com/editor?editor=paris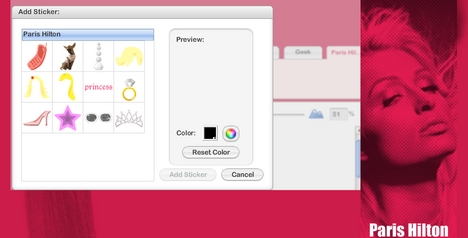 Thanks to PARIS-HILTON-LOVER™ and itsnicole .

Posted: June 25th, 2008
Comments: 2
Comments