Paris Hilton release her new iPhone application
Press Release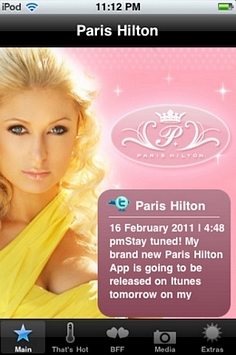 International entrepreneur and media icon, Paris Hilton, launches her own mobile application, which is currently available for the iPhone and iTouch, giving fans an inside look into her jet-setting life. In addition, Hilton has also done a complete revamp of her website to give her fans the only go-to destination for all things Paris and get a sneak peek into her everyday life.
The app, exclusively built for Hilton, is named "Paris Hilton" and was developed by mobile solutions company, Velti in conjunction with Reach Messaging It is currently available at the iTunes App Store for $2.99 or by texting the keyword "APP" to 72747 (PARIS). The Android and iPad versions of the app will be available in the coming weeks.
"Paris Hilton's new app gives users a behind-the-scenes glimpse into her glamorous and trendsetting lifestyle," said Grant Cohen, director of Mobile Solutions at Velti. "Velti's comprehensive mobile marketing platform, paired with Reach Messaging's unique app development solutions, provides a new channel for Paris and other A-list celebrities to directly engage with fans, while building brand loyalty and increasing their digital audience."
The following features are offered through the app:
— BFF: Fans can easily insert Paris into any of their photos, which can be saved, e-mailed and shared with friends on Twitter and Facebook.
— Paris Playlist: Paris will frequently share her favorite songs, TV shows and movies and link users to iTunes to instantly download.
— Paris' Personal Photo Gallery: Exclusive access to Paris' personal photos, giving fans an exclusive look into her life.
— Quizzes: Fans have the opportunity to put their Paris knowledge to the test and see how they rank against other users.
"I am so excited to launch my mobile App and new website today, we've worked really hard to create something that is truly unique and unlike anything else that's already available," said Paris Hilton. "The online and mobile world is such an important part of our lives today and is a way that I regularly communicate with my fans. The new site and my new App are a lot of fun and very entertaining, there are a ton of unique features and content, I think people will really like it."
The refreshed website (www.parishilton.com) will be the hub for all Paris Hilton brands with the new online store where global distributions allows anyone in the world to purchase Hilton's products. In addition, the new website will feature a mobile portal where site visitors can easily download personalized ringtones and wall paper as well as sign up to receive beauty tips from Paris on their cell phones. The website now uses a cutting-edge technology that enables a 3-D photo gallery and a livestreaming video of Paris in real time. In addition to the new app and website, fans can get real-time beauty tips straight from Paris by texting the keyword "Beauty" to 72747 (PARIS).

Posted: February 18th, 2011
Comments: 1
Comments