Paris Hilton shines at Vanity nightclub for the launch of new ParisHilton.com
The detailed article on Paris' visit to Vanity nightclub was written by Xania Woodman and posted on Las Vegas Weekly.
If you were at Vanity Saturday night (or follow the tweets of anyone who was), then you already know that actress/singer/heiress/designer Paris Hilton was in the house. And if you know that then you also know she wasn't exactly the one-woman, three-ring circus the tabloid reporters would make her out to be. The slim blond starlet was downright behaved!
Hilton arrived around 12:30 a.m. in a sparkly, clingy, one-shoulder, black party dress, and assumed the place of honor at a VIP table on the stage next to the club's DJ booth. There, she sat on the booth-back, flanked by at least 20 friends and handlers including perennial friend Jeff Beacher. She danced with beau Doug Reinhardt and with girlfriends, sang all the words to Snoop Dogg's "Ain't No Fun (If the Homies Can't Have None)", and mugged for an appreciative crowd. (Hilton also visited Vanity the night prior, that time with LMFAO, Cisco and Shwayze in celebration of LA nightlife don Tony Daly's birthday.) Despite the two bottles of Patron and liter of Grey Goose vodka, the heiress drank water. One source close to the star noted that Hilton rarely drinks in public nowadays.
Meanwhile, over on the Strip, guest DJ Steve Angello was spinning at Tao. Angello famously brawled with Reinhardt and Hilton at Miami's Liv nightclub last March therefore it is ironic that the three should once again be making headlines the same night in another infamous party town.
At 1:15 a.m., Hilton headed to the DJ booth to join Vanity resident, E!'s DJ Clinton Sparks. Speaking in the third person, Paris announced herself as hostess and plugged her new website, parishilton.com. After playing her own song "Stars are Blind," Hilton requested Michael Jackson's "Billie Jean," Kings of Leon's "Sex on Fire," and later," Chester French's "She Loves Everybody."
Around 1:45 a.m. Hilton's neighbors at table 54 purchased 500 shots of Patron for the crowd. The bottles were paraded to the mystery benefactor's table by beautiful cocktail servers, the customary sparklers, and Nightlife Group's own Cory McCormack with partner, baseball's Jason Giambi leading the charge. "Anyone who wants a shot," Clinton Sparks shouted to the crowd, "head over to table 54!"
The $7,000 round of drinks was likely the icing on the cakes of Hilton's fans, sure to be talked about back home by guests who showed up armed with cameras and photos just to ogle Paris and maybe snag a cell-phone pic. But without lifting even one pale, pinky finger, Hilton still managed to outshine even a Patron parade.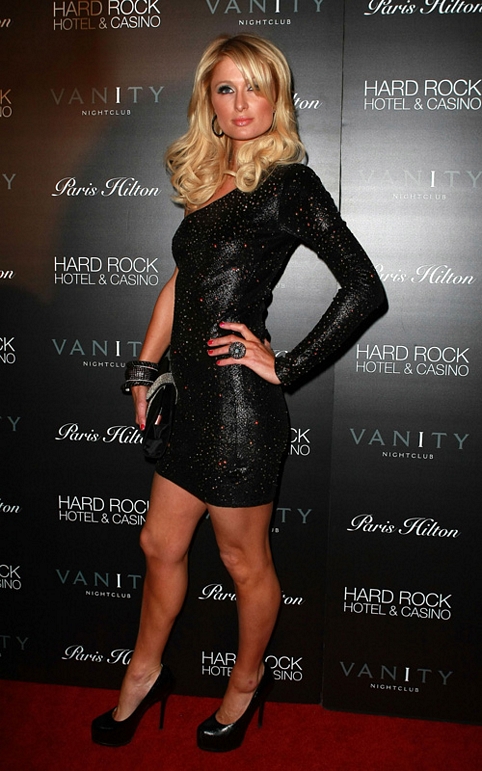 Posted: January 17th, 2010
Comments: none