Paris Hilton spends time with sick kids from Starlight Children's Foundation
Written by LookToTheStars.org
Paris Hilton, Nikki and Kathy welcomed the kids suffering from serious diseases and gave them a day to remember as they entertained the kids with games of Duck Duck Goose, Simon Says and bubble blowing.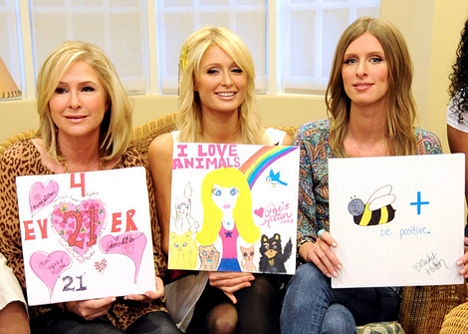 The event was organized by famous Forever 21 chain of clothing stores, which is currently adding 90,000 square feet Forever 21 in Manhattan, in Times Square, in the space formerly occupied by the Virgin Megastore.
Forever 21 designer Madeline Beth will collaborate with Paris, Nicky, and their mother Kathy Hilton for the design of three new t-shirts that will be featured at Forever 21 stores worldwide. Paris and Nicky Hilton painted the designs for the t-shirts themselves. All proceeds from the sales of these shirts will be contributed to the Starlight Foundation.
The Starlight Foundation offers a comprehensive menu of outpatient, hospital-based and Web offerings that enable them to provide ongoing support for children and families — from diagnosis through the entire course of medical treatment. The Starlight Foundation prides itself on restoring family's spirits while researchers look for cures and doctors work to restore a child's health.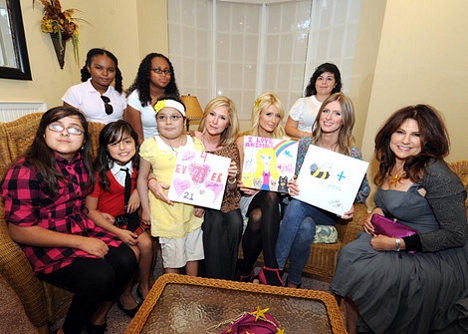 Also in attendance was owner of the famed Anastasia Salon, Anastasia Soare doing makeovers, Chase Krouse of Chris McMillan Salon, and last but not least Forever 21 collaborative accessories designer, Madeline Beth.
Madeline Beth has been in manufacturing for over 20 years; specializing in rhinestone accessories such as handbags, compacts, other purse accessories such as lipstick holders, compact mirrors, belt buckles, and fashion jewelry. She works with Forever 21 to design trendsetting accessories that have been innovative in the fashion industry.

Posted: November 23rd, 2009
Comments: 2
Comments