Paris Hilton Talks About Charity Work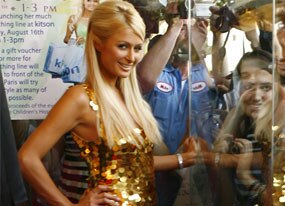 20% of profits made from the successful Paris Hilton Clothing Line Launch yesturday have been donated to Childrens Hospital Los Angeles.
The [Paris Hilton Line] launch itself was about more than simple self-promotion, however. Proceeds from the special shopping event went toward Hilton's charity of choice, Los Angeles Children's Hospital, where she volunteered in the wake of her release. Some of the children from the hospital were even present.
"I went and visited them two months ago, and it made me really want to help," she told E! News. "So, now I'm going to a lot of charity events and bring them out to do fun things. It's nice to make someone smile and make a difference in someone's life."
It's all in a day's work for the heiress, who wants people to know she plans on making good on her statements that she would adopt a more socially responsible role.
"I've definitely matured," she said. "I'm 26 years old now, and I feel like I've been so blessed by God that I want to give back and do something in return. I feel like if everyone does their part, we can really make a difference."
Eonline.com

Posted: August 17th, 2007
Comments: 1
Comments