Paris Hilton throws her final 31st birthday party at Agency nightclub in Hollywood
Reported by Daily ISO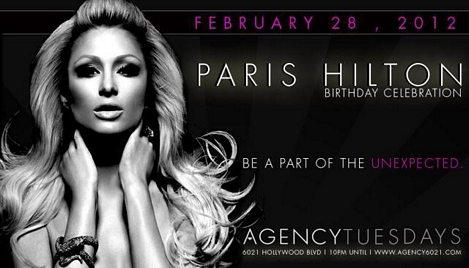 Yes, her real birthday party was a couple weeks ago, but what celebrity doesn't hold court at least a few times. Thus, tonight marks the final birthday celebration for Ms. Paris Hilton. It's all going down at Agency nightclub in Hollywood tonight.
Agency Tuesdays have been known in this city for having the biggest DJ's in town spin at their intimate venue. The place only holds about 300 people and runs a very tight door and we're sure tonight will be no exception. We wouldn't be surprised if Paris' boyfriend Afrojack made a special appearance, just saying.
The final birthday celebration took place this evening.

Posted: February 28th, 2012
Comments: 3
Comments