Paris Hilton to launch her Sunglass Collection line in Las Vegas this weekend!
Written by AllHeadlineNews.com
Paris Hilton and Gripping Eyewear invite you to the premiere of the Paris Hilton Sunglass line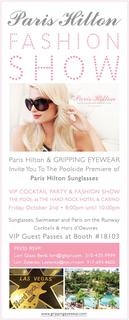 The Hard Rock Hotel & Casino in Las Vegas will be holding a poolside premiere for Paris Hilton's new sunglass collection launch. The evening will feature an appearance by Hilton, along with a VIP cocktail party and fashion show.
The Paris Hilton Sunglass Collection ranges from classic sophistication to casual and playful everyday wear and uses the revolutionary technology of Gripping Eyewear, Inc. Gripping Eyewear utilizes magnets on the eyewear temples to secure the frames to clothing, purses, metal objects and other patented magnetic accessories.
The Paris Hilton Sunglass collection will hit stores in the fall of 2009. Paris will also be debut her swimwear collection at the fashion show.
The event will take place on Friday, October 2 starting at 8:00 pm until 10:00 pm.
In other news, Paris Hilton will also host several parties at Hard Rock Hotel and Casino the same weekend.


Posted: September 29th, 2009
Comments: none