Paris Hilton to Launch New Fall Shoe Collection on July 29th – Follow Up
One of staff who is working for the launch of Paris Hilton's fall shoe collection would like to share with you more information about the "Macy's Fashion Show" event. Below is the flyer that explains it with all the details.
Designer Paris Hilton "will be making a personal appearance to greet fans and sign autographs for the first 300 guests that purchase a pair of her adorable shoes from July 19th to the 29th!"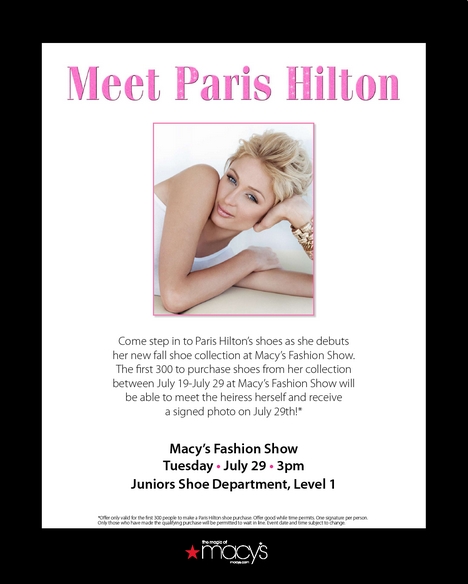 *Offer only valid for the first 300 people to make a Paris Hilton shoe purchase. Offer good while time permits. One signature per person.
Only those who have made the qualifying purchase will be permitted to wait in line. Event date and time subject to change.
Thanks to Lauren.

Posted: July 25th, 2008
Comments: 2
Comments