Paris Hilton's clothing collection goes virtual!
Press Release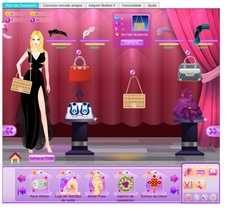 Mentez, the world's leading publisher and developer of social games on Orkut and Virtual Greats, the world's leading virtual goods and sales distribution agency, have announced a partnership to bring celebrity and brand-inspired virtual goods for sale within the Mentez roster of games. The initial deployment will be built around global fashionista, singer, actress, and business woman Paris Hilton and will include a line of clothing and jewelry. Forthcoming virtual assets will be developed around IP from Virtual Greats' secured portfolio of clothing brands, sports leagues, cartoon characters and celebrities.
The growth of virtual goods in general and branded virtual goods in specific has proved to be a global phenomenon. Well known 'western' brands have strong appeal in South America and this partnership pushes the boundaries again by offering branded content to a non-US user population. With Mentez's 22 million weekly active users and Brazil's growing population of internet users and booming economy, the stage has been set for cross-over success.
"We see vast potential for our celebrity, brand, and clothing company clients beyond the traditional US market" said Brett Orlanski, Director of Platform Management at Virtual Greats. "Mentez has a dominant position on Orkut and a deep roster of compelling, well suited games that matches our brands. We are excited to branch out beyond our own borders and bring our content to an untapped market."
"I have the best fans all over the world. I love Brazil and I could not be more excited to share my style with my Brazilian friends!" said Paris Hilton.

Posted: October 13th, 2010
Comments: none