Paris Hilton's Jail Term Is Officially Cut To 23 Days
More information leaking out about this latest news released today by the Associated Press.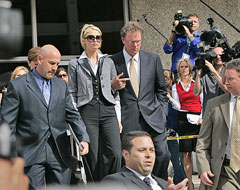 Paris Hilton will serve about half of her 45-day jail sentence and will be separated from the general inmate population, authorities said Wednesday.
The hotel heiress will spend about 23 days in a "special needs housing unit" at the Century Regional Detention Center in suburban Lynwood, Los Angeles County sheriff's spokesman Steve Whitmore said.
Her sentence was shortened after jail officials gave her credit for good behavior, Whitmore said. Officials considered several factors in calculating the credit, including that she appeared for her latest court date, he said.
Hilton will stay in a unit that contains 12 two-person cells reserved for police officers, public officials, celebrities and other high-profile inmates, he said.
Like everyone else in the 2,200-inmate facility, Hilton will get at least an hour outside her cell each day to shower, watch television, participate in outdoor recreation or talk on the telephone, he said.
The 26-year-old socialite was sentenced to jail this month for violating the terms of her probation in an alcohol-related reckless driving case. A judge ordered her to report to jail by June 5.
A call to her lawyer, DUI specialist Richard Hutton, was not immediately returned. Her publicist, Elliot Mintz, declined to comment.
AP
This is proof that the evil judge's sentence was irrational. That discriminating judge, Michael T(yrant). Sauer, should be chased away from the judicial system!
With the pending appeal, she perhaps could reduce it even more? But bye-bye to the crazy number 45.
She will now serve for about 3 weeks, which is still a lot. It should be about a week or less in my opinion.

Posted: May 16th, 2007
Comments: 2
Comments