Paris Hilton's latest interview with Australian Stella magazine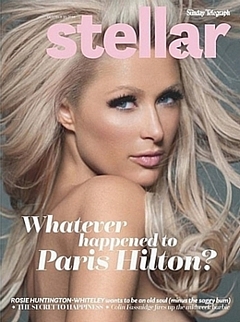 Paris Hilton – the pioneer of being famous for being famous – is an aunt. Her niece, Lily Rothschild, is almost four months old and, according to doting Hilton, the most beautiful baby that ever lived. She is probably also one of the best dressed, given her aunt's passion for shopping. But we can't be certain on either count, because the world has never seen a photo of her.
That's right. Paris and Nicky Hilton, once two of the most photographed women in the world, whose images built their brands and topped up their fortunes, who were paid a rumoured $1 million to first come to Australia just over a decade ago to be photographed, have not released a picture of Lily. What's more, when Lily is old enough, Paris Hilton will actively discourage her from following in her own footsteps.
"I wouldn't recommend [reality TV]," she says. "[Lily] is going to do much bigger things in life than that. I think it's better to be a businesswoman."
Hilton is now 35 and has, she would have us believe, evolved. She describes herself as an entrepreneur by day and DJ by night. She boasts a perfume empire (she is releasing Gold Rush, her 20th fragrance, making her the second-most prolific scent mogul since Elizabeth Taylor), 28 Paris Hilton handbag and accessory boutiques, a global property portfolio, and a recent DJ set at Burning Man festival to back up her claim.
"I enjoy being a businesswoman," says Hilton. "It's what I care about; building my brand and businesses around the world. I feel proud of the empire I have built. I like for people to focus more on my work as a businesswoman, rather than being a celebrity. I think it's more important to be a respected businesswoman."
Read the rest of the article here.

Posted: October 29th, 2016
Comments: none