ParisHiltonSite.net Readies For "EXTRA PARIS"
Exclusively At ParisHiltonSite.net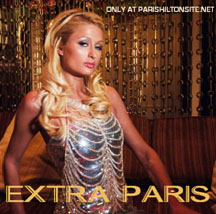 Get ready for one of the biggest Paris Hilton giveaways on the internet. From May 25 to July 6, 2007, Extra Paris by ParisHiltonSite.net will release the rarest video and audio files you can find on the internet.
This huge collection will include documentaries, interviews, unreleased songs and remixes, behind the scenes footages and many other rare videos.
These videos and songs were collected from the internet since 2003. Some of the them can still be found on the internet, but the majority of them have disappeared.
Extra Paris features only public videos. This collection is especially for fans who have followed her throughout her career since 2003. You will only find videos and audios of her interviews, documentaries, TV shows, album, etc.
None of the files posted at Extra Paris include videos of her private life or inappropriate files, and you won't be able to buy or find any of them at your local store.
Extra Paris will be launched on May 25, 2007, two days before the airing of the first episode of Simple Life 5 on E! Television.
Be prepare to storage gigabytes of precious Paris Hilton files on your computer. A must for a hardcore Paris Hilton fan!
For more info, visit the webpage: Extra Paris


Posted: April 26th, 2007
Comments: 2
Comments