Repo! Leaflet
I've answered many of the questions you guys asked about Repo! in the comment section of the previous post. If you have more questions, let me know.
I checked the song list again in the leaflet that was given to us at the theater, and I noticed the song "Blame Not My Cheeks" that Kevin was talking about is not listed there. Amber's opera performance is shown after "At the Opera Tonight." But after the latter song, according to the leaflet, she doesn't sing any other song. BTW, I don't know for sure if the song she sang at the opera was "Blame Not My Cheeks."
So if it's not listed there, maybe "Come Up And Try My New Parts" was played without me noticing it lol. Maybe it was during the introduction scene, the "rain" scene. Or maybe, the leaflet just lists the main songs. I don't know, but none of the songs resembled to the original "Come Up And Try My New Parts" we heard a few months ago!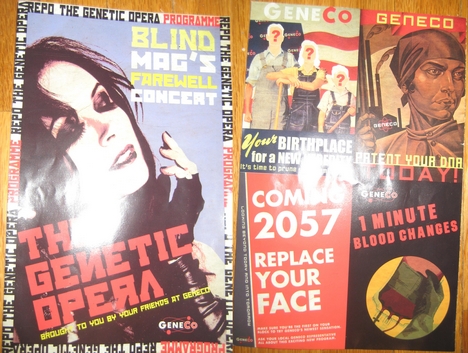 Sorry about the quality. I don't have a scanner lol.

Posted: July 20th, 2008
Comments: 4
Comments