"Screwed" Is The Third Single In Asia
EXCLUSIVE
Warner Music released the third single "Screwed" only in Asia.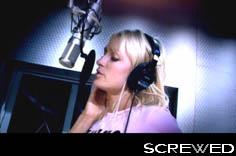 Apparently, "Screwed" is been played on Asian radio stations. According to Warner Music Thailand, "Screwed" was released on February 7, 2007, but it looks like only in Asian countries.
I have a link for this to prove it to you. I've asked someone who reads Thai and I can confirmed to you that it says "Screwed" is the third single.
It probably won't be released in America or Europe, but since "Nothing in this World" has become a major hit on Asian charts, they decided to release a third single there.
I can't believe this has been going for months and we haven't heard anything about it.
I've also checked Wikipedia, not a reliable source, and indeed, it talks about it:
"The song has been a radio friendly single in Asian countries such as Malaysia, Singapore, Philippines and Thailand. It is also the most requested song in most popular radio stations."
http://en.wikipedia.org/wiki/Screwed_(song)
I don't know if that statement is true, but I hope I will get more info about this soon.
If you have any doubt about this, check the link for yourself directly from Paris Hilton's label:
http://www.warnermusic.co.th/what_hot/newsupdate.php?id=93
Anyone who can speak Thai, please gives us a full translation.
By the way, for two weeks straight, "Nothing in this World" is at #7 on Bulgarian Airplay Chart. It was at #8 two weeks ago.
http://pulsemusic.proboards48.com/index.cgi?board=global&action=display&thread=1176580740

Posted: May 11th, 2007
Comments: 1
Comments