Did the purse belong to Paris Hilton?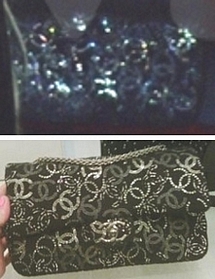 RadarOnline.com just recently posted an exclusive article claiming a picture of the purse that Paris Hilton was carrying on the night of her arrest was posted on her Twitter sometime in mid-July. You can read the article here. Several other non-mainstream news sites picked up the story.
At first, I dismissed the article because RadarOnline didn't bother posting a picture of Paris' purse when she got arrested so that I can compare it with the one she posted on Twitter. But then, I decided go on TMZ.com and examine the arrest pictures. And I did find a somewhat blurry picture showing her purse. See the picture here.
So now you can compare it with the Twitter picture.
Many people are saying that Paris said the purse did not belong to her. To be sure, she hasn't personally said that on her Twitter or to the media, nor do we have a video of her saying it. However, according to a police report, she told police "the purse was not hers, and that she had borrowed it from a friend." When asked whose cocaine it was, "she said she had not seen it but now thought it was gum." This report was written by Las Vegas police Lt. Dennis Flynn.
But according to TMZ, she later told her friends that one of her friends recently borrowed the purse and might have placed the cocaine inside. It was reported that she said: "I had no idea the cocaine was there. I swear on my life."

Posted: September 2nd, 2010
Comments: 18
Comments