Story of one lucky fan who won the "Celebrity Styler" contest and met Paris Hilton
Reported by thenewstribune.com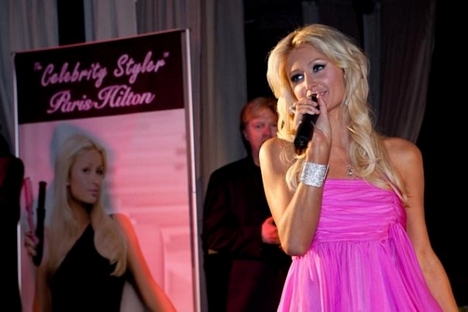 Luck runs in the family for 25-year-old Cheyanne Diaz.
"My dad used to win contests all the time," said the Pasco woman. "And everybody would ask him how and he said you can't win if you don't enter, so if I come across them, I enter." Last year, she won a Fender Stratocaster guitar from Grammy-winning musician John Mayer by following Mayer's posts on Twitter. So when celebrity Paris Hilton tweeted about a contest to bring five lucky winners to her beauty line launch party in Beverly Hills, Diaz didn't hesitate to enter.
The contest required fans to buy Paris' new all-in-one hairstyling tool from Sally Beauty Supply. And Diaz, an X-ray technician, came up a winner again. Last week she and her friend Tami Gonzalez of Pasco were flown to Los Angeles, where they got to schmooze with Paris and her family. "We got to meet a bunch of her BFFs that were on her show. It was the best night," Diaz told the Herald.
Paris is her favorite celebrity and despite past negative publicity, Diaz thinks Paris is a strong and smart businesswoman. "I was so nervous, I couldn't eat fro two days beforehand," she said. "She was really sweet, and she hung out with us longer than I expected. She liked my dress." Paris also liked the fact that Diaz was wearing her brand of high heels.
But Diaz's luck nearly ran out at the Beverly Hills party when she learned that all the bags with Paris' beauty products had already been handed out to partygoers. "They ran out of gift bags by the time I found out about it, but (Paris') hair colorist gave me his," she said.
She befriended the celebrity hairstylist, Michael Boychuck, and continued her contest-winning streak after she returned to the Tri-Cities. "After I got home, that hair colorist put on his Twitter that he'd send products to the first five people who wrote to him, and I won, so he's going to send me hair products," Diaz said. "I sound like all I do is read Twitter, but I don't — I just see it at the right time."
Diaz can use her new hair products for when she goes to the John Mayer concert in Seattle in March. Just don't ask her to play the guitar, which she keeps in its case in her bedroom. That's just a lucky reminder to herself that if you don't play, you'll never win.

Posted: November 30th, 2009
Comments: 2
Comments