The Hottie and the Nottie Released on DVD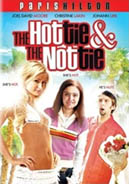 Tonight is the one-month anniversary of my meeting with Paris Hilton; tomorrow is the third anniversary of House of Wax (May 6)! We celebrate this day with the release of the Hottie and the Nottie on DVD. You can get your copy of this comedy movie from Amazon, Buy, eBay or from any good movie stores. Note that buying it from eBay will help you save some money.
The primary reason why we support the Hottie and the Nottie is because it is the first movie that Paris took seriously. She worked hard on it, and was proud of the project. The way they promoted the movie in the US was not good. But in the UK, the distributor of the movie turned its back against it and the promotion was both awful and rude. Nevertheless, the movie did better in the UK than in the US. It opened at #32 and grossed 34 231$ in only 28 theaters. Overall, so far, it has grossed more than 1 300 000$ worldwide.
DVD extras include:
– Commentary with Paris Hilton, Christine Lakin and Joel David Moore
– Making-of featurette
– Blooper reel
– Photo gallery
– Mockumentary
Just grab a bag of popcorn and enjoy watching a fun comedy movie with friends or family! Here's a special video interview with Paris Hilton and Christine Lakin (hope you haven't seen it before). It's hilarious!
Visit the official section of the Hottie and the Nottie on PHS.

Posted: May 4th, 2008
Comments: 17
Comments