The Repo! Revolution is coming on March 19th!
Press Release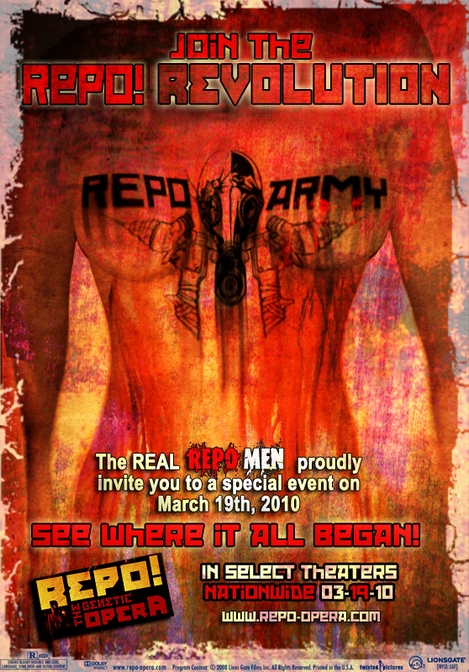 Every week fans are lining up in full costume to see the show that is being hailed as "Rocky Horror for the new generation" Come see what everyone is talking about.
Times are changing for the little film that could. While REPO! the Genetic Opera opened into only a handful of theaters in November 2008, it has grown into a worldwide cult phenomenon. REPO! The Genetic Opera, with its fast growing and very loyal fan base, has been increasingly in the news recently, and here's your chance to get in on the action. For a flat fee of $200 theater owners (or fans) can book a screening of Repo! the Genetic Opera on March 19th, 2010!
This offer is open to any movie theater in the United States! (Terms and conditions below)
This past January the creators posted a link on the official website www.Repo- Opera.com to ask fans if they want Repo screened in their town, after receiving hundreds of responses from rabid fans with Shadowcasts in place and ready to go! We listened, and we invite you to host The Repo! Revolution in your town! Costume contests, live performances, themed events and more. To make this even better, we are extending this offer to the theaters by offering an exclusive deal. Book REPO! on March 19th, 2010 and we will send a special filmed introduction from Creators Terrance Zdunich & Darren Smith, & Director Darren Bousman. And, a special 5 minute video montage of behind the scenes footage, past REPO Road Tour moments, and (what everyone has been asking for)…UNSEEN FOOTAGE!
REPO! The Genetic Opera has become a cult favorite amongst the midnight movie markets across North America, where it plays monthly with a full cast of live performers singing and dancing in the aisles and on the stage in front of the film. Nationwide, local (Rocky Horror-esque) groups of performers called Shadowcasts (www.reposhadowcast.com) have been performing since January 2009 and often times with special nights, like REPO! themed burlesque shows, lingerie and costume contests, and regularly as a double feature with Rocky Horror.
This evening is a must see, so everybody, everybody get-up, get-up now and TESTIFY!
Click here for more info!
Posted: February 28th, 2010
Comments: 3

From: Jen
Time: February 28, 2010, 9:49 pm
I KNEW this movie would achieve cult status!!
From: Repo Fan
Time: March 4, 2010, 6:01 pm
It's really cool that Paris let them use her chest for that logo… NOW THAT is what I call advertising.
From: fromTHEGRAVE
Time: March 5, 2010, 10:04 am
Just FYI- not paris' chest.