The Repo! The Genetic Opera DVD
The Repo! The Genetic Opera DVD will be out on DVD (and Blu-ray Disc) on January 20, 2009. The movie will be a new 97-minute unrated cut! It will retail for ~$20.
However, the director of Repo! confirmed that the DVD won't include deleted scenes because "[they] didn't get them pulled in time." Maybe the Blu-ray Disc will have them.
The DVD or the Blu-ray Disc will have two commentaries, a never before seen behind the scenes footage (some from the official website). In addition, it will include the "Needle Through a Bug" and "Come Up and Try My New Parts" (by Paris Hilton) scenes. There will also be another song by Paris, and plus an unseen opera scene! The bluray will also have a "Sing Along."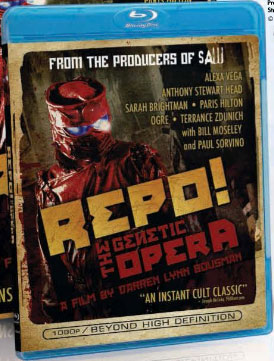 Thanks to Scot for the info / The HDroom
Posted: December 1st, 2008
Comments: 10

From: kevin
Time: December 1, 2008, 10:30 pm
Will only the bluray have the Paris scenes and does bluray work in a regular DVD player?
From: Jaime
Time: December 1, 2008, 10:50 pm
The dvd is only 20 dollars
BR is 30
The dvd wont have deleted scenes but BR will…
From: admin
Time: December 1, 2008, 11:23 pm
I don't know the answer to your question. I'm a bit confused, and I'm not 100% sure, but this just an idea what we're supposed to get.
Thanks Jaime. I did some corrections to the post.
From: scot
Time: December 2, 2008, 12:12 am
This is on Wiki (yeh, I know D;)
DVD features
Audio commentaries:
Director Darren Lynn Bousman and actors Bill Moseley, Alexa Vega, and Ogre
Director Darren Lynn Bousman, creators Darren Smith and Terrance Zdunich, and music producer Joseph Bishara
2 featurettes:
From Stage to Screen
Legal Assassin – A Repo Man
Blu-ray features
All the DVD features including:
Select scene audio commentary by director Bousman and actress Paris Hilton
2 additional featurettes:
Zydrate Anatomy – Amber Sweet: Addicted to the Knife
Chase the Morning – Blind Mag: The Voice of GeneCo
Video sing-along
Deleted scenes
I'm guessing New Parts and Paris' other song are in deleted scenes.
Blah still over a month away til I get to see it ;/
I have no idea if you can play Blueray on normal DVD players because I think it only works for HD tvs and stuff.
From: Django
Time: December 2, 2008, 3:00 am
Blu Ray won't play on regular DVD players. You need a Blu Ray player (or a Playstation 3 or any other console which uses Blu Ray technology).
I wonder how long it'll take us to get Repo in the UK in any form (and if it'll be available in other countries where Paris has fans).
From: Jaime
Time: December 2, 2008, 11:38 am
Blueray players can play DVDs but not the other way around(or so ive heard)
Sadly the DVD won't have the commentary from Paris or any of her deleted musical scores. Only the Blue-ray will have them but the director said to not be sad or mad..that they will be online the next morning for sure
From: Paris89Hilton
Time: December 2, 2008, 3:56 pm
I know this message is not about the DVD, but i wanted to ask you guys if, please, you won't say anything about BFF's winner until the last episode will be online on the MTV's website, because I'd like to watch it like Americans: I'm Italian and i can watch it on TV, but just on the MTV's website…
Thanks to everyone
From: Jen
Time: December 2, 2008, 6:40 pm
I'm hoping it's Vanessa.
I will buy Repo at amazon just as soon as it comes out. Can't wait.
From: scot
Time: December 2, 2008, 8:01 pm
I'm just going to buy a copy of the normal Repo! DVD and a Blueray version.
From: juju
Time: December 4, 2008, 1:09 am
97 minutes? WTF!!! is that shit? First as originally shot it was almost 4 hours, then they cut it to just over 2 hours for the theatre release…so shouldn't the dvd be at least what was shown in the theatre? Why the fuck cut out more?
this sucks…..i'm beginning to believe DLB is not trying as hard as he claims to get lionsgate to do more for the film. and to let it come out in dvd so soon also shows the effort to extend it's threatre release has lost steam. onc it hits dvd, the theatre run is over. that includes film festiivals. what BS!!!