The True Paris Hilton Shines Again
Paris Hilton unnecessarily confirms the "fakeness" of one destructive article invented by a lying journalist.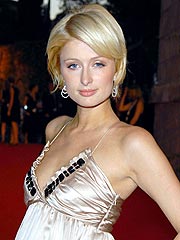 Though Paris Hilton has declared that her Simple Life costar Nicole Richie is bound to be "the best mom ever," the hotel heiress won't be having children of her own anytime soon.
"Someone just said that I'm adopting four blonde babies," Hilton, 26, told PEOPLE at Friday's Kate Somerville White Room Emmy suite in West Hollywood. "That's retarded. No, I'm not."
Asked if she'd want to adopt, Hilton said, "Maybe, but I want to have my own children."
The unattached Hilton, who in recent weeks has been seen with Entourage star Adrian Grenier, 31, insists that the actor is not a romantic interest.
"Totally just friends," says Hilton. "We met a couple years ago [and] we've stayed friends. He's been like kind of a mentor to me, teaching me about the environment and what I can do."
She adds, "I think it's cool to talk to someone in L.A. who has more to talk about than all this artificial crap people talk about. It's nice to talk to someone who's real."
Hilton has had a real busy September, filming her upcoming movie Repo! The Genetic Opera in Toronto, partying at the MTV Movie Awards in Las Vegas and returning to Los Angeles for this weekend's heavy round of Emmy parties.
Having previously starred in 2005's horror remake House of Wax, Hilton also says she's stepping up her acting and working with acting coach Ivana Chubbuck.
"This is my first time that I've actually taken it seriously. Before, I was just doing it for fun, not really paying attention – not even studying my lines. But this time, I'm serious about it," she says.
"I really tried hard to get this role. I rehearsed. I was the best at the audition. I got this part because I deserved it, and I'm going to make sure I do the best job ever."
People.com

Posted: September 15th, 2007
Comments: none