The World According to Paris presented at the Television Critics Association summer press tour in Pasadena, California
Reported by Reuters / Edited by PHS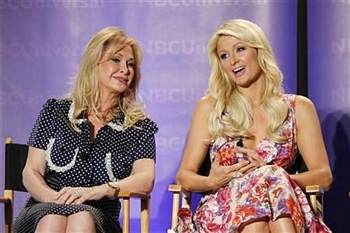 Paris Hilton says she is showing a side of herself on television that fans have never seen before — the down to earth, funny, relatable girl who nevertheless has a multimillion business based on being famous for being famous.
"On 'The Simple Life', I was playing a character. Now people will get to see my real world, my friends, my house, my business," Hilton said on Friday.
"I would never have done a show like this five, ten years ago. I wasn't really comfortable with myself. I have been through so much. I have nothing to hide. It's like, what else can happen? I was ready to show myself," she told TV journalists.
Executive producer Arthur Smith said the new TV show was "an all access look at Paris."
"There has been so much written about Paris over the years. This was a great opportunity to get to know the real Paris," he said.
Smith said his view of Hilton had completely changed from his preconceptions before starting work on the series.
"She really is so down to earth. She goes through things that every woman goes through — so many relatable things. She is also really funny and likes to have a good time," Smith said.

Posted: April 15th, 2011
Comments: 11
Comments