The World According to Paris presented at the Television Critics Association summer press tour in Pasadena, California
Reported by Reuters / Edited by PHS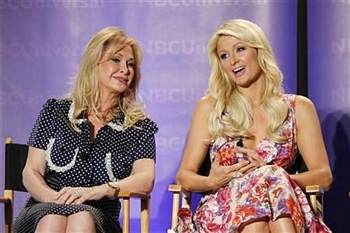 Paris Hilton says she is showing a side of herself on television that fans have never seen before — the down to earth, funny, relatable girl who nevertheless has a multimillion business based on being famous for being famous.
"On 'The Simple Life', I was playing a character. Now people will get to see my real world, my friends, my house, my business," Hilton said on Friday.
"I would never have done a show like this five, ten years ago. I wasn't really comfortable with myself. I have been through so much. I have nothing to hide. It's like, what else can happen? I was ready to show myself," she told TV journalists.
Executive producer Arthur Smith said the new TV show was "an all access look at Paris."
"There has been so much written about Paris over the years. This was a great opportunity to get to know the real Paris," he said.
Smith said his view of Hilton had completely changed from his preconceptions before starting work on the series.
"She really is so down to earth. She goes through things that every woman goes through — so many relatable things. She is also really funny and likes to have a good time," Smith said.
Posted: April 15th, 2011
Comments: 11

From: Becky
Time: April 16, 2011, 12:25 pm
Every time I hear about the show, I get more and more excited. Can't wait!!!
From: T.K.
Time: April 17, 2011, 5:23 am
I forgot to watch Paris Hilton BFF Dubai x_x
From: scot
Time: April 18, 2011, 4:12 am
BFF Dubai is on tonight, I'm recording it and will watch it in the morning. I'm actually kind of looking forward to it.
From: retrograde
Time: April 18, 2011, 4:52 am
Will you be able to upload it? I really hope someone is able to, I'm dying to see it! 🙂
From: Paris_China
Time: April 18, 2011, 7:41 am
I also download BFF show season 2(MTV US TV version),it includes Paris's new song Another Lifetime & Globetrottin' & Platinum Blonde. Scot, can you unload it on Megaupload? thank u!
From: T.K.
Time: April 18, 2011, 8:14 am
In Portugal the premiere was Saturday and the rerun as Sunday.
I forgot to watch the premiere and couldn't watch the rerun…
From: admin
Time: April 18, 2011, 2:57 pm
Sorry guys… My school scheduled all the final exams on a single week, and now I have to do a series of interviews. So tired… I don't recall hearing Platinum Blonde on the 2nd season of BBF. I'll definitely upload the first episode when I get my hands on it!
From: scot
Time: April 18, 2011, 6:52 pm
You're all good admin, hope you get some peace soon!
Sorry guys, I meant I was recording it in on my tv. I don't have the tech know-how to get into onto here. Sorry! BFF Dubai was pretty good, I don't think it's much of a bother if you missed this episode as it was just Paris getting them down to the final 12. It's really cool though, they're from all over the middle east and europe. Even girls from America, Canada and Australia. The series looks like it's going to be good. It seems to have a less campy feeling to it then BFF 2 had.
Also, something a bit strange but cool. Repo! is on youtube, the WHOLE movie. youtube.com/watch?v=MoeYcnTHhSk
From: retrograde
Time: April 18, 2011, 7:35 pm
It's all good, hopefully someone else manages to upload it. It is airing in like six different countries, someone's bound to upload it eventually!
From: admin
Time: April 18, 2011, 7:47 pm
Yeah, it's pretty much airing on all MTV channels, even in Asia. Not sure about the US one. It's also not airing in Canada. I like Paris_China's trailer. I like the fact that it was filmed in Dubai, somewhere fresh and different. Too bad it's not getting too much attention at the moment. Paris should try to promote it a bit especially since it's airing worldwide.