Theatrical release of Repo!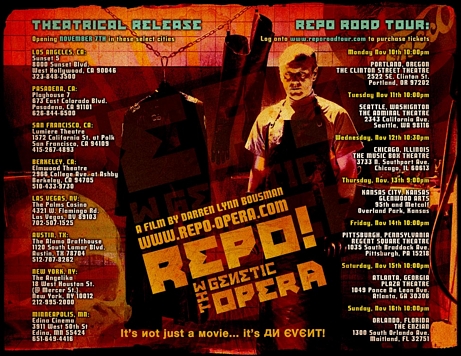 As I reported, Repo! will be played in eight theatres when it comes out in November. Laughable! Only eight!
Can you believe it? The Hottie and the Nottie played in about 100 theatres when it was released, but Repo! will play in only eight theatres! This is crazy! It's because Lions Gates knows people prefer to watch some lame and boring popular movies ("safe" movies that somehow become popular) rather than an original and unique movie like Repo! There's no movie in theaters that I would prefer to watch more than Repo!
Blame it on Lions Gates, for now. Regent Releasing would've been a better distributor for Repo! fans! Here's a video of a Repo! fan who saw the movie in Toronto and expressed my thoughts about the theatrical release of Repo!

Posted: October 22nd, 2008
Comments: 5
Comments