Tuesday, We Will Know If Paris Will Go To Jail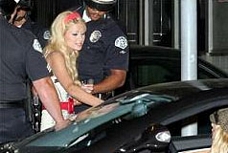 Watch out for Tuesday's verdict. It will be a big day with a big announcement. We are excepting a news release from the Associated Press right after the court ends and the verdict is confirmed.
However, I highly doubt Paris will be sentenced to jail just because the media is pushing for it. The media is already reporting false information in anticipation. The British media has always been #1 at reporting false rumours. You should read their latest report.
Remember the judge needs to be convinced that Paris didn't know her licence was suspended while she was driving after her DUI arrest. Also, keep in mind that no prosecutor bothered reporting to a judge that she was driving with a suspended licence until they caught her driving with no headlights.

Posted: April 15th, 2007
Comments: 4
Comments