Track list of extended Repo! The Genetic Opera soundtrack
The extended soundtrack of Repo! The Genetic Opera has been released! But unfortunately, 98% of Repo! fans were unable to buy a copy of the new CD.
According to the director, Lionsgate has managed to screw up Repo! again! The extended CD was supposed to be exclusively released in all Hot Topic stores in the United States, but only a few of them carry it.
Darren Bousman said that it will be eventually available on Repo's site, Itunes, Amazon. Meanwhile, he alerted the Repo! army to prepare for a possible attack, haha!
Below is the backcover of the extended CD, provided by Repo! forum member ChasingTheGhost: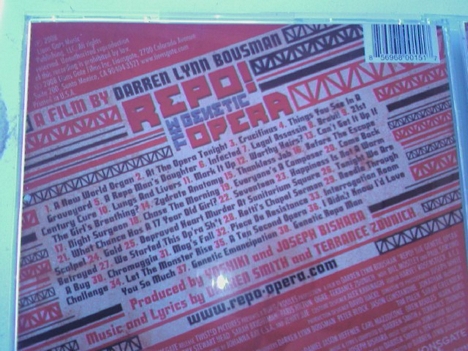 Track list:
A New World Organ, At The Opera Tonight, Crucifixus, Things You See In A Graveyard, A Repo Man's Daughter, Infected, Legal Assassin, Bravi!, 21st Century Cure, Lungs and Livers, Mark It Up, Worthy Heirs?, Can't Get It Up If The Girl's Breathing, Zydrate Anatomy, Thanksless Job, Before the Escape, Night Surgeon, Chase The Morning, Everyone's a Composer, Come Back, What Chance Has a 17 Year Old Girl?, Seventeen, Happiness Is Not a Warm Scalpel, Gold, Depraved Heart Murder, Tonight We Are Betrayed, We Started This Op'ra Shit, Rotti's Chapel Serman, Needle Through A Bug, Chromaggia, Mag's Fall, Piece de Resistance, Interrogation Room Challenge, Let The Monster Rise, A Ten Second Opera, I Didn't Know I'd Love You So Much, Genetic Emancipation, Genetic Repo Man.
The soundtrack is titled "Deluxe Edition," and it comes in a 2-CD set!

Posted: February 17th, 2009
Comments: 18
Comments