Unreleased Repo! songs from the movie will be released privately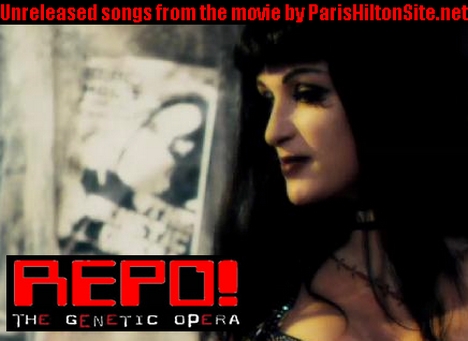 I've decided to do a private release for the unreleased Repo! songs I wrote about last night. I don't want to release them publicly, because the producers of the movie might decide one day to sell some of the songs to the public, and they're still trying to make a profit.
I repeat that these are only songs and instrumentals from the movie that weren't included in the original and extended soundtracks. I worked on them a few weeks ago, and the collection turned out to be pretty kewl! It would be fun to share them with other Repo! fans from Paris Hilton Site.
It will only be send to PHS fans who meet a certain criteria. You must have participated on PHS by having made at least 25 posts in the comment sections (or on the forum) in the last few months. And I have to be able to fully recognize your username and 150% trust you that you will not share the songs with others. If you're not selected, don't take it personally! I know some of you will still hate me for doing this, but I just want to reward those who have participated on PHS and who I've known for a long time! If you think you meet the criteria and want the collection, make a post below.
The unreleased Repo! songs from the movie will be sent to the selected few sometime on Sunday night, Eastern time.
So far, scot, Math M and Jaime are on my list.

Posted: March 13th, 2009
Comments: 26
Comments