What Paris Hilton And Lindsay Lohan Have In Common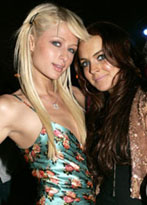 Nahh! It's not just the DUI arrest!
I guess you've heard it by now. Lindsay Lohan was arrested for DUI, and the news has just started to spread triumphantly.
Normally, I don't care much about celebrities, other than Paris Hilton; much less about Lindsay. However, since she's part of the celebrity circle in Hollywood like many others, I hear about her almost every day, but pay very little attention.
Apparently, just yesturday, Lindsay announced that she was planning to release another music album within a few months. That's excellent news for her; it's a good and positive news.
So what do Paris and Lindsay have in common?
It's music, in a way. Right after Paris finished recording the music video for her second single "Nothing in this World," she got arrested for DUI. And now, Lindsay announces that she's going to release an album, and suddenly, this happens. Has music become a curse or something?
Ok, what else do they have in common?
I never really realized this, but the same irrational hatred is directed to Lindsay. It seems that the same haters who hate Paris, also hate Lindsay. It's really incredible. You just have to visit TMZ and read the comments; it's surreal. Why hate someone so much? I guess this once again made me understand that if you're rich, pretty and very famous, you're bound to be hated. This is just another proof that people hate these celebrities (especially the Paris and Lindsay types) because of who they are. Though, I'm probably not 100% correct on this, but still, the most photographed celebrities are always hated intensely.
It's too bad that this didn't happen during the weekdays because most of the gossip writers and media people are not working at the moment. I want to compare this coverage to the one the media gave to Paris' DUI arrest. Let's see how big it will be especially since they found cocaine in her car or something. Let's also see how the gossip "experts," the ones who always comment negatively about celebrities, will react.
Stay tuned.

Posted: May 26th, 2007
Comments: 1
Comments