What Paris Hilton Can Expect In Jail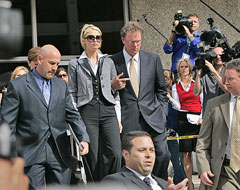 When Paris Hilton does her 45-day stretch, she — like other celebrity Los Angeles County inmates — will be segregated from the general population for her own safety.
Inmates at the Century Regional Detention Center get three-poultry-based low-sodium meals a day.
They are allowed outside their cells for an hour each day to shower, watch television in the day room, participate in outdoor recreation or talk on the telephone.
There have been other celebrities at the women's jail. Actress Daryl Hannah, arrested last year for failing to leave a 14-acre inner-city garden where farmers were being evicted, spent a few hours there.
A year ago, former "Lost" actress Michelle Rodriguez showed up to serve a 60-day jail sentence for violating probation terms after her drunken driving arrest in Hawaii.
The jail's overseer says it's "a very nice place."

Posted: May 4th, 2007
Comments: 8
Comments