A Few Quotes From Paris Hilton At Sundance Party
About Nicole Richie's baby: "I'm so excited!  I've sent her all these presents. I'm going to spoil her! It's the coolest name ever (Harlow Winter Kate Madden).  I'm like, 'That is the coolest name, oh my God!' I wouldn't even think she would have thought of that. It's a beautiful name.  Nicole is so into it.  She always knows what's cool before it happens."
About Britney Spears: "She's such a sweet girl.  When I'm alone with her, she's a completely different person than they make her out to be. And I love her, I think she's very sweet and has a big heart.  She's amazing.  I just want her to be happy. I think everything's going to be OK."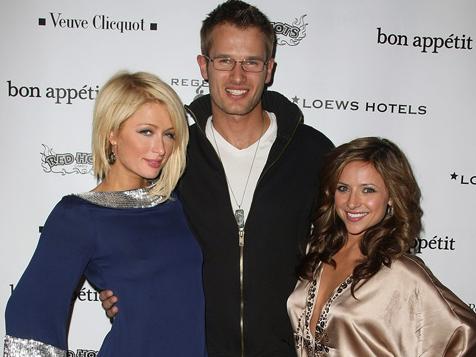 Paris Hilton posing with director of "Hottie" Tom Putnam and her co-actress Christine Lakin.
Posted: January 21st, 2008
Comments: 3

From: Jen
Time: January 21, 2008, 6:36 pm
Paris looks exquisite! Girl sure knows how to dress.
I heard that Paris is actually the co-producer of Hottie. If so, she can add another title to her many talents.
From: kevin
Time: January 21, 2008, 10:57 pm
Ugh, no new album talk yet Paris?
Freaking even Vanessa Hudgens just finished her second album and it's suppose to have a SUMMER release with promotions starting within a couple months.
And news of Vanessa going to the studio, etc has been going around for months. That means even if Paris starts now we probably won't have a album to late 2008 maybe even early 2009 sadly. I hope for a single by October.
From: Dawn
Time: January 22, 2008, 11:57 am
people.com has a real cute photo of Paris in Sundance.