An exclusive first look at Paris Hilton's new official website
Below is a first look at the upcoming new ParisHilton.com. The Paris Hilton Community section is still there. A Club Paris section, which is the official fan club, has been added. Paris Live appears to be an interactive section where you can chat and see Paris live. There's a new Shop section where you can purchase PH products as well as a Mobile section. There are also fun sections where you can find quizzes and tips by Paris.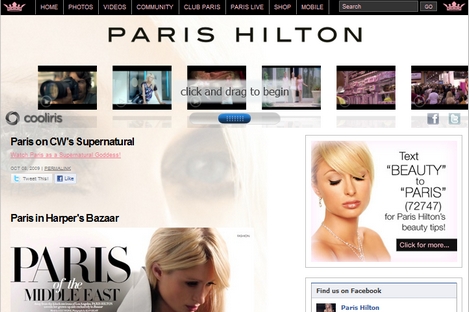 Posted: February 5th, 2011
Comments: 5

From: Becky
Time: February 5, 2011, 5:07 pm
The new website looks AWESOME!!! I can't wait until it launches because it's going to be so much fun!
From: Kassidy Morrow
Time: February 6, 2011, 2:40 am
This is gonna be so sick 🙂 I'm so excited. I even see my Ms. Hilton video on the video bar. Loves it!!
From: P
Time: February 6, 2011, 9:04 am
looks great! when will this launch?
From: Ulysses
Time: February 6, 2011, 9:05 pm
Dear Paris, very nice… I need you help me about the future plan….
Ulysses from Guangzhou City, China
From: todd jones
Time: February 11, 2011, 1:00 am
Way to go Paris! Keep on bodybuilding..You are so awesome!