Paris Hilton's Celebrity Styler


"There is a new celebrity stylist in town, but you do not need an appointment to get your hair styled like a celebrity." - Paris Hilton
In Fall 2009, Paris Hilton released an all-in one styling iron: The Celebrity Styler.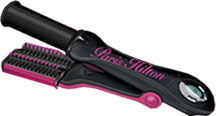 Imagine combining the best flat iron with a rotating curling iron - all wrapped up in one easy to use device.
If you can brush your hair, you can easily use the Celebrity Styler - in minutes you can transform yourself to look like a celebrity!
The rotating cylinder, made of ceramic tourmaline, spreads heat evenly. As your hair glides between the turning curling iron and the heated plate, it gets smoothed and shined like never before.
Straighten, curl, do flips or bangs, the digitally controlled keypad offers heat from 210-450 degrees; it works with all hair types. It even has an automatic shut off if you forget to turn it off after you're done styling!
How does the Paris Hilton Celebrity Styler work?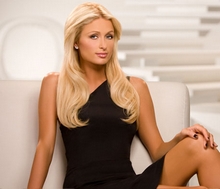 The Paris Hilton Celebrity Styler is a combination flat iron and curling iron all in one. By placing hair between the barrel and heated plate and then closing the handle, the barrel begins to rotate automatically at 100 times per minute. As you pull the styler through your hair, you can either straighten or curl your hair, whichever you choose. The ceramic tourmaline barrel provides fabulous shine; the small combs help to separate hair evenly to allow the hair to be heated evenly. The Celebrity Styler allows the user to turn off the rotating barrel if they just want a flat iron. You can use with damp or towel dried hair, better to detangle hair before using.

Main Features
The Paris Hilton Celebrity Styler smooths, straightens and curls!
- Smoothes & straightens
- Gives awesome curls
- Auto shut off feature
- 360° swivel power cord
Purchase "The Paris Hilton Celebrity Styler" Online

Celebrity Styler