CNN covers the making of the Paris Hilton brand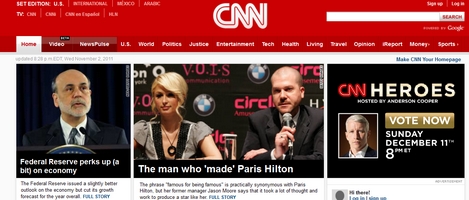 An article about the making of the Paris Hilton brand was featured today on CNN.com as part its special weekly series. CNN interviewed Paris Hilton's former manager who worked very closely with Paris for a long time and who arguably played a big role in the making of the PH brand.
The article goes into depth on the branding strategy of Paris Hilton and gives some insight on how the two worked together to build up the PH empire. However, note that the author introduces the article by making false assumptions about Paris' current position in the spotlight. For example, why does the author claim that Paris Hilton is pulling the disappearing act when she launched a new Reality TV show this past summer?
You can read the article here.
Posted: November 2nd, 2011
Comments: 10

From: admin
Time: November 2, 2011, 6:35 pm
Jason Moore… The guy who was behind the scenes all the time. I remember him filming the launch of Paris' shoe collection in Montreal and giving me his business card, although unfortunately I never got the chance to contact him again.
He was supposed to release a tell-all book about Paris, but I guess it will never see the light of the day.
I could analyze that article in full detail and write a school-like report. Such nostalgia!
From: Jen
Time: November 2, 2011, 10:08 pm
Moore was only her business manager and as such could not possibly have had much of a hand in developing anything.
He is full of you know what.
Paris Hilton has always been her unique self. Without that, not much could have been done by anyone.
Paris has repeatedly stated that signing on with Phillip Morris was what really got her branding started.
Moore pops up every so often like a Jack-in-the-box and tries to make himself and others believe that he is some sort of guru.
Yawn.
From: Jen
Time: November 2, 2011, 10:18 pm
Also, Paris never pulled a disappearing act.
But she became world famous. So it must have dawned on her that she can do just as much business staying out of the tabloids as she did before.
Perhaps even more.
I actually predicted that Paris would move into a gated community and concentrate more on business than headlines.
Am I a prophetess or what? LOL.
From: Jen
Time: November 2, 2011, 10:26 pm
Paris tweeted earlier that she is jetting off to Barcelona and Valencia/Spain to watch her motorcycle team race.
She seems to be doing quite well for herself.
From: John Bland
Time: November 3, 2011, 7:28 am
This guy, could not help falling in love with Paris. Spending so much time with her.
From: Lacey
Time: November 3, 2011, 5:39 pm
admin, what did you mean when you said very high profile people come to this website? Does P herself visit?
From: scot
Time: November 5, 2011, 4:24 pm
Some of these comments.. lord.
I thought this was a cool article. It's always interesting to read what people have to say when they've worked so closely with Paris. Especially someone like this guy. He came across rather positive which makes me think that maybe he was releasing the 'tell all' book when he was a bit bitter? I don't know. Maybe they parted ways on bad terms but now he's let it go?
I'd be all for you writing your own articles, Admin. I think they'd be really interesting because you have such a good perspective of Paris and what she does. Like, if you were to interview Paris or someone close to her, I think you'd ask all the right questions. Interesting ones without being intrusive.
From: Benji
Time: November 5, 2011, 6:33 pm
Hi all, not sure if anyone here likes Katie Price AKA Jordan. She's a friend of Paris's & I've always thought of her like the British Paris in terms of becoming a brand & business woman. Anyway, her new show "Signed by Katie Price" is so great & VERY BFF-esque. Anyone who might wana check it out if they're missing "BFF" & having Paris reality show withdrawal might wanna check it out. If people are interested in checking it out I can link to a Katie fansite that has the eps up to watch. 🙂
From: Dawn
Time: November 6, 2011, 7:59 am
Scott – right before they parted ways, Moore all of a sudden kept positioning himself into pictures with Paris.
I didn't know he was leaving but I remember wondering back then wtf her business manager was doing. It just seemed weird.
It's nice that he is positive. My guess is he is looking for a new job in this economy.
From: scot
Time: November 6, 2011, 7:11 pm
Oh really? That's a bit strange. Make sense that they'd leave on an unpleasent note if he was stepping on Paris' toes a bit.
DLB is hinting about a Repo! surprise again
"REPO FANS REJOICE. Your wait is almost over. something wicked this way comes. Patience will be your reward. it's off to hell we go."
I honestly have no idea. As I said last time I hope for a director's cut with lots of DVD extras