Confessions of an Heiress (2004)

The book is dedicated to Paris Hilton's late grandmothers, Marilyn Hilton and Kathy Richards.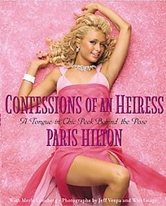 Paris Hilton's first book, a 198-page memoir, which can be found in any popular bookstore, is as Paris says very tongue-in-cheek. She wanted to write a book that would make people laugh and show the world that she can also laugh at herself. There are many rules given in the book, but believe it or not, Paris is too busy to follow every single one of them. It really is a good book to read if you're interesting in knowing the real Paris Hilton. Although it is intended to explain "how to be an heiress," it is also an autobiography of Paris. It consists of many interesting and beautiful photos of her family, friends and herself.
The book was published right after Simple Life 2 finished airing its episodes, in Fall 2004, specifically. When it first hit on shelves on the September 7th, within a week, 100 000 copies were sold. It's not surprising to note that it debuted on the New York Times non-fiction best-seller list at #7. And it has been doing pretty good in sales ever since.
Chapters
1. How to Be an Heiress
The first chapter explains how an heiress is suppose to be, how she should react to certain things and what rules ("if you're happy, wear pink") she should follow. The whole point is to understand how you (Paris, that is) can become famous and attract attention. Paris also insists that you should always be in charge of yourself and not let others influence your thoughts and opinion.
2. My Other Half: My Sister, Nicky
This chapter is all about her sister, Nicky Hilton ("my sister is one of the funniest people you'll ever meet"). As you may already know, Paris and Nicky are very close with each other, and share many interests. Paris gives us in this chapter a sneak peak at growing up with her little sister during her childhood.
3. Fashion and Beauty: What, When, Wear, and How Low Can I Go
Everything related to fashion and beauty. Here, you have plenty photos of Paris at fashion shows. Paris explains the reason why she's into fashion shows and names her favourite dresses and products ("Diane von Furstenberg's collections are amazing"). She also has a few hairdressers to recommend if you can afford.
4. I'm with Paris
In this chapter, Paris' true friends are mentioned, from Kimberly Stewart to Naomi Campbell, and a few tips on how to party like an heiress are revealed! There also is a list of party clubs and places where Paris recommends you to go ("Mr. Chow in New York and L.A.").
5. My Jet-Set Life
Everything an heiress should know and do before traveling to somewhere else ("Always pack more than you need"). And what to do exactly when you're on an airplane. Paris also suggests a few places you should visit for vacation.
6. My Day Job
Paris talks about her career as a movie star, as a singer, as a TV star and as a model. She clearly sets her goals, and insists that she's a worker and makes her own money ("if people say I'm spoiled, at least they can't say I don't do anything").
7. The Not-So-Simple Life
How the whole idea of the Simple Life came about, and there's also some interesting information about the making of the second season of the show ("I was just playing a funny role"). If you're a huge fan of the Simple Life, then you would definitely want to read this one.
8. My Best Accessories
It can't get any "girlier" than this chapter. It's definitely recommended for Paris Hilton's female fans. Basically, Paris gives out tips on how to deal with guys and your boyfriend in general ("Don't send your friend up to a guy to bring him over").
9. My Fashion Don'ts
There are a couple of pictures in this chapter that Paris discusses about. This really is one of the funniest chapters, and you probably didn't expect Paris to criticize her own poses and pictures ("I look like an old lady!")!
10. Warm and Fuzzy
Paris clears a few rumours about her, and mainly talks about her family. You can also find many family photos in this one, and it's really worth to check them out. There's also a funny section of her teacup, Tinkerbell ("she loves fast food and steaks").
11. Personal Space
It's all about what Paris likes to do, and about her favourite music artists, books and magazines ("I'm particularly good at pasta").
12. The Next Chapter
She mainly talks about her future and her upcoming projects. One thing is clear, Paris wants to be an artist, a singer, a model and an entertainer ("And I'm only just getting started…").
A Fireside Book
Co-written by fashion writer Merle Ginsberg
Photographs by Jeff Vespa and WireImage
Published by Simon & Schuster (New York, London, Toronto and Sydney)
Purchase Confessions of an Heiress: A Tongue-in-Chic Peek Behind the Pose from Amazon.com
Virgin Mega Store Signing