Consequences of drug conviction catch up as Paris Hilton is forced to leave Japan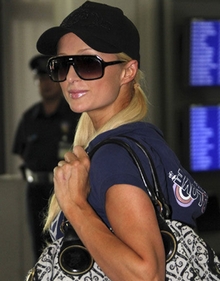 Paris Hilton was forced to leave Japan and had to cancel her entire Asian promotional tour after pleading guilty to drug possession.
Her publicist said in a statement: "'I'm going back home, and I look forward to coming back to Japan in the future. Paris is very disappointed and fought hard to keep her business commitments and see her fans, but she is forced to postpone her commitments in Asia. Paris understands and respects the rules and laws of the immigration authorities in Japan and fully wishes to cooperate with them."
An immigration official at Narita International Airport, Kazuo Kashihara, suggested that Paris should have applied for an entry permit before her arrival instead of "[showing] up the day after [pleading guilty]."
It was also reported by the Las Vegas Review-Journal that the Japanese officials took the decision to temporarily ban her after receiving a copy of the drug plea deal from District Attorney David Roger.
Paris told reporters that she will go back to Japan in the future, and her publicist added that the promotional tour has been postponed to a later date.
So has all this unnecessary mess affected the sales of her products? According to FOX News, no. Associates at LA Macy's are saying that Tease is in fact still "doing very well."
Posted: September 22nd, 2010
Comments: 2

From: admin
Time: September 22, 2010, 2:18 pm
She needs to work with the authorities to lift up the ban somehow. She should reschedule the promotional tour as soon as possible. Those organizers must have spent a lot of time organzing it!
Very disappointing. This was an awful week. I don't think I've felt so bad over Paris since the jail sentence.
If I were her, I would sit down for a minute and think of ways to prevent this from happening again.
From: christa
Time: September 25, 2010, 4:58 pm
here we goagain.another star in trouble and getting away with it. yes,both paris and lindsay should take a long and serious look at their lives and try to avoid any future scandal.grow up!