Description of the upcoming "The World According to Paris" episodes
"The World According to Paris" premieres this Wednesday on Oxygen TV. Below is a short description of each of the first four episodes.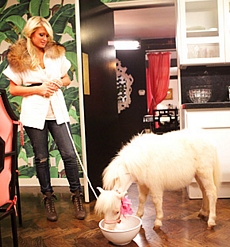 Episode 1: Breaking and Entering
06-01-2011
Paris moves to her sister's house after a man breaks into her house; text messages from her ex may threaten her relationship with Cy.
Episode 2: Brooke's Breakdown
06-08-2011
Paris sets Brooke up on her first date since her break-up from Charlie Sheen; things don't go as planned.
Episode 3: Vegas Virgin
06-15-2011
Paris and the girls take Lexie for her first weekend in Vegas; a heated fight divides the girls.
Episode 4: New Year, Old Drama
06-22-2011
Paris and Cy end up in a fight on a romantic trip to Cabo; Brooke leaves rehab for Aspen and is haunted by a dispute with Charlie.
Posted: May 26th, 2011
Comments: none