Paris Hilton's DreamCatchers Hair Extensions


"The best hair extension technique on the market today. No damaging glues, waxes, weaves or clips. Quick, easy and clean using the world's best quality hair" - DreamCatchers by Paris Hilton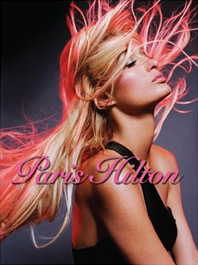 Unless you live in Hollywood, it's not often that you get to experience the celebrity world and shop at the same places that the stars go, dine where they dine, and get the same spa service as the A-list. But HairTech International is changing all of that by bringing star beauty to the masses. People are fascinated by Paris Hilton – where she goes, what she wears. She is one of the most photographed women in the world. Most people only dream of having what Paris has – her expensive car, her designer handbags. But now, you can have the EXACT same hair as Paris. We know that every single day, Paris Hilton is wearing DreamCatchers. And the technique and hair quality we are offering to the consumer is exactly the same – no substitutes, no mass market version.
Hair is one of the most important accessories a woman has and she has to think about it every single day. It can make or break a look and how you feel. If Paris Hilton, who can have the best, chooses DreamCatchers for her hair extensions, why not you?
So Easy! So Undull! So Unboaring! So Unroutine!
Dream Catchers Clipin-Go: Hair Extensions
Sold exclusively by Sally Beauty Supply
| | |
| --- | --- |
| Black | Dark Blonde |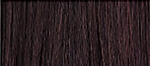 Dark Brown

| | |
| --- | --- |
| Frosted | Maple Honey |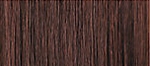 Medium Brown

| | |
| --- | --- |
| Light Blonde | Pale Blonde |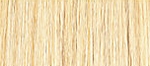 Paris Blonde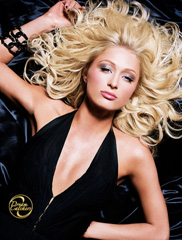 The DreamCatchers by Paris Hilton technique is:
The best quality hair ever – 100% unprocessed hair from Europe – reusable for long wear

Quick and easy – a full head application takes only 2 ½ hours and the micro-cylinder technology is easy

Does NOT damage the client's own hair – REALLY

Cost effective – DreamCatchers are meant to be a hairstyle for life, not a one-time look. Adjustment appointments can cost as little as $60 per month, which is what you spend on a haircut. It is THE most cost-effective hair extension technique available for the quality and service
How It Works!
DreamCatchers doesn't use any damaging glues, waxes, chemicals or weaves as do most other hair extension systems.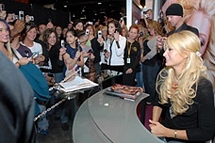 After many years of research, DreamCatchers has established the ultimate method of attachment which protects your own hair from any undue stress or damage. Hair extensions are not uncommon and have been widely used by a number of high profile celebrities.
So choosing to enhance your appearance, why not chose what we consider to be the best system AND also the best quality available by choosing DreamCatchers. Trust your most important accessory – your hair to us. Finally, you can have the EXACT same hair as Paris Hilton.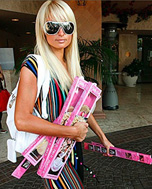 Paris Hilton Dream Catchers Clip N Go Human Hair feels awesome and wears beautifully!
This is a 18" human hair extension that you can treat just like your own hair. It can be colored and styled with heat. Just know as soon as you put it on, it will become you!
It is also neatest easiest way to style volumize and create the most amazing do in your hair. Short hair transforms to luxurious, long hair. Hair is intensified by the a fuller lusher lavish mame so extraordinary that people will want to just touch you hair and tell you how nice it is.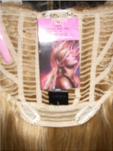 Size is delicately directed to fit all head sizes so if you have encountered others that are too large, this one is for you. It can be cut, colored, left straight or curled to fit your favorite style. It will fit with all head sizes. Made with 100% Natural Remy Human Hair with an overall hair length of 18-21", this extension system consists of one multi-clip contoured piece.
Buying Dream Catchers Clip N Go from retail stores could cost you more than $300.00. You can buy 'Paris Hilton Clip-On Human Hair Extension' from eBay for less than $250.00! There are 12 colors to choose from (varies from light Blonde to Black):
Click Here to buy Dream Catchers Clip N Go from eBay.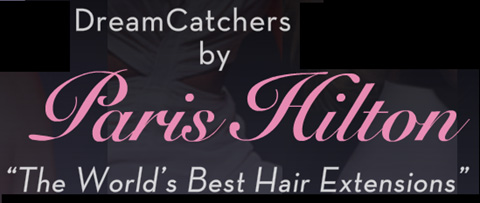 Hair Tech International
Hair Tech International is a global beauty company specializing in new hair technologies, haircare and personal care products. HairTech International creates, distributes and manufactures top quality products and technology for the salon industry, as well as the mass market. HairTech International delivers the most advanced technologies and the highest quality products at affordable prices.
2007 DreamCatchers Hair Extensions Promotion
Paris Hilton promoting DreamCatchers
08/04/12 Paris Hilton promoting Clipin-Go and The Bandit at CosmoProf Italian Beauty Fair in Bologna, Italy
May 2008: Official Launch of Paris Hilton's DreamCatchers by Sally Beauty Supply
Special Thanks
DreamCatchers by Paris Hilton (Official Website)
Entertainment Tonight (Promoter of DreamCatchers)