Economic recession forces MTV to cut down the budget of Paris Hilton's My New BFF 2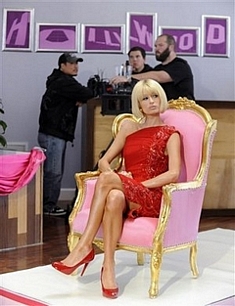 My BFF 2 will air this summer
Contestants in season two of "Paris Hilton's My New BFF" are living in a mansion that costs half as much as the home the show rented last season. Trips to New York and Tokyo are out this year, as the show's production budget has been cut 10 percent.
With the recession eating into advertising revenue at TV networks, a popular solution has emerged – even cheaper reality TV.
Reality shows already were TV's low-budget alternative. Producing one on a broadcast network can cost about $950,000 per episode, versus $1.7 million for a scripted drama, largely because reality shows don't use expensive actors and writers. And advertisers like how reality TV can give them inexpensive air time if they give the production free stuff and services. Add it all up and a network can eke out a profit even if a reality show's audience is fairly small.
"There's just less money around," said Michael Hirschorn, co-executive producer of the Paris Hilton show, as he sat outside its sun-drenched set in a modernistic building overlooking the San Fernando Valley. "The economy's a mess, so all of us have to work more efficiently. … We have a reality show that is 40 percent cheaper than this show that just got green-lit."
MTV, which plans to air the new Hilton show this summer, is filling more air time with new reality series rather than reruns. Even so, its programming costs are down 17 percent per half hour, said Tony DiSanto, head of programming at the Viacom Inc.-owned network.
Written by The State
Posted: April 7th, 2009
Comments: 1

From: Jen
Time: April 8, 2009, 3:11 pm
Oh well, we all have to tighten our belt until the economy improves.
Recessions run in cycles.