What Was the Reason Behind the Break-up Between Paris Hilton and Nicole Richie?

"Most of my friends aren't famous at all. It's easier. They don't feel they have to compete with you. A lot of people can get like that. Like, if someone's more successful they'll get mad about it." - Paris Hilton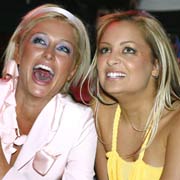 Some people made it sound more worse than it was, but the feud between Paris Hilton and her best friend, Nicole Richie isn't really that complicated to understand if you look at the basic facts.
In May 2005, before the release of Paris' biggest movie yet, House of Wax, after a long suspicion, Paris finally admitted to the media that she and Nicole weren't friends anymore. She said that Nicole knows what she did and that's all she's going to say about it "I will not go into the details of what happened. All I will say is that Nicole knows what she did and that's all I am ever going to say about it". At that time, however, Nicole didn't say a word about the fight. Paris was pushing the producers of the Simple Life and FOX to accept her long-time friend Kimberly Stewart as her next sidekick for Simple Life 4, but FOX said a big "NO" to Paris, and besides, Nicole was under contract for two more seasons of the Simple Life series.
So What Happened?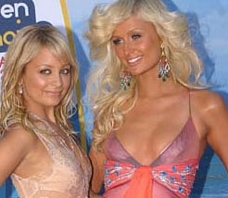 There are actually many explanations as to what happened exactly between Paris and Nicole, but no official explanation has been offered by Paris or Nicole, so for now, this is what we believe happened.
Actually, Paris has given us many hints, but most of them have been ignored by the media because it just doesn't fit their picture of her. One thing is clear though, Nicole has never given us any good hint about their feud. All she has said is that she just doesn't want to talk about it and that there was no chance for them to be friends again. Of course, that statement turned out wrong when they reconciled in Fall 2006 after Paris phoned her and asked her if she wanted to film together for Simple Life 5. The producers wanted Paris and Nicole to go on an island as campers, but neither Paris, nor Nicole wanted to go there alone, so that's how they reconciled.
Ok, So What Made Them Hate Each Other?
Paris has mentioned that there were a lot of things that the media made up about this feud, and that many of the things they have said and quoted her are completely false. She doesn't know to what extend they over-exaggerated, but she and Nicole just couldn't believe everything they were reading.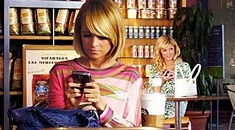 In 2003, Paris and Nicole found worldwide fame with the premiere of the Simple Life. Everything was going well back then, and both seemed to be very popular. But then, according to Paris, Nicole got a bit jealous of Paris because she was the one who was getting the most attention, and no one cared about Nicole as Paris says "When I brought her on my show [Simple Life], she just got very jealous and turned on me for no reason. I think she just can't sand being around me because I get all the attention and people really don't care about her". This is likely to be true because Nicole has never been as popular as Paris. You can search on Google and you'll notice that Paris gets many more hits by far. Paris also felt betrayed because she brought her up on "[her] show," and made her famous, and now, she envies her. This message is also present in one of Paris' songs titled "Jealousy" which is clearly aimed at Nicole "I was always happy / When I was watching you become a star / But you were only happy / When the world was openin' up the scars." She actually wrote that song when they were breaking up.
There is another famous claim that Nicole got jealous of Paris hosting Saturday Night Live, so one night she gathered all her friends and played the sex tape of Paris instead of her SNL episode, but Nicole has denied this. This rumour is likely to be false because it is made up by the media. When reporters asked about it to Paris, she said that she also heard that rumour, but didn't know whether or not it is true.
And so, while Paris continued her own way and didn't change much, Nicole, on the other hand, did. She stopped going to big parties and renewed her image. She also released a book "Truth about Diamonds," filmed another season of the Simple Life separately and that was it "They want to do it with just me, but we're both under contract together. She has nothing else so she really wants to do it, but I don't" (by Paris). This is a clear indication that Paris was annoyed by Nicole because she knew that Nicole was using her fame to promote herself, and that was hurting her.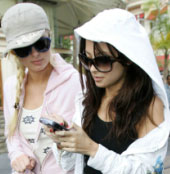 But Paris' attacks against Nicole went further in magazines. She repeatedly said that Nicole wasn't very nice with her non-famous friends and that she didn't treat them very kindly "I was, like, you're really rude. When I introduce you to someone who's not rich and famous, you treat them like s**t. I don't want to be your friend anymore". (Maybe that's what she did to one of her friends? Perhaps to Kimberly? No one knows, expect for Paris, Nicole and Nicky, Paris' sister)
It's possible that Nicole has put that behind her now and learned from her mistakes. Paris also insists that she has never changed and she always stayed the same, but Nicole never did "It breaks my heart. She was my sister. She was the funniest, coolest, best person to be around and then, she, like, let the fame go to her head and then she thinks, I don't even know what. She's not the same person any more. I never want to speak to her again - ever."
There's really nothing to report from Nicole's side as we said because she never said anything about the feud. She did say to CNN's Larry King that nothing happened between her and Paris, but that they were just growing apart, and that was it. Maybe she was forced to change directions to distance herself from Paris? She also explained that they aren't going to be friends again.
However, whatever happened between her and Paris is history now, thankfully.