Five Reasons to Watch The Dog Who Saved Christmas Vacation
The Dog Who Saved Christmas Vacation premieres Sunday, Nov. 28 at 8/7c on ABC Family.
Five Reasons to watch the family movie, which stars Paris Hilton as voice of Bella according to Mario Lopez, one of the co-stars: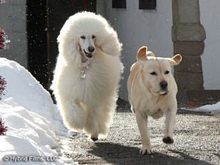 No. 1: He voices a dog — a female one
Lopez tells TVGuide.com that not only do his nieces and nephews get a great kick out of hearing him voice a dog, but that they all had a laugh when they found out the pooch is actually a female.
No. 2: It's his first family film as a father
Although he's always prided himself on being a family man, Lopez says he's even more happy to do a family-friendly movie now that he has a little one, Gia, with girlfriend Courtney Mazza.
No. 3: Adults can tune in, too
Parents can look for some subtle, mature humor. "We put in enough adult humor will keep them entertained as much as the kids," he says.
No. 4: Paris Hilton's first voice-over role
Lopez says Hilton does a great pampered poodle. The heiress voices Bella, a new puppy with whom Zeus is immediately smitten.
No. 5: It has a happy ending
Viewers can expect to cry happy tears, as Lopez says his favorite scene of the film is "the end when I actually save [vacation].
Reported by TVGuide.com
Posted: November 27th, 2010
Comments: 4

From: scot
Time: November 28, 2010, 5:58 am
OKAY. This is a bit out of the blue and it sounds a bit awful, especially if I'm wrong. but, I'm just throwing this out there. I was looking at this paparazzi photo of Paris shopping the other day and her tshirt was lifted just slightly, and she has a little, absolutely tiny belly on her. I'm just putting this out there that maybe, JUST maybe, there is a possibility of her being pregnant. I don't want to be one of those people speculating such a thing. Paris isn't at all big. But, I don't know. Just throwing it out there.
From: retrograde
Time: November 28, 2010, 7:56 am
I think it's just the way she was posing. Her back was really arched which pushed out her stomach a bit and made her look pregnant. Unless if you're thinking of a different picture than I am?
From: scot
Time: November 28, 2010, 9:17 am
It was on the 22nd, she went shopping wearing the black tshirt with the writing on.
I looked at some other ones, her Indian halloween costume in perticular and her belly was a little bit there too. Maybe it was just bloated, I don't know. But it looked more 'solid' rather then chubby.
It would also make sense as to why she was shooting her swimwear line at the beginning of winter when they surely wont be released until late spring/summer.
Another thing – even though it's her usual style, most of her clothing recently has been loose fitting around her stomach, or using jackets. The photos of her shopping on the 26th, there is one of her looking at candles (I think that's what they are) and her belly actually looks bigger.
I don't know. With her launching a new show, her announcing/documenting her pregnancy would be pretty great for the ratings. Plus, Brooke is a mother. And she's in the show rather then Paris making it younger.
Random theory from Scot #90890