Germans, Here Comes Paris Hilton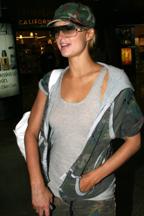 Reports are indicating that Paris Hilton left LA for Europe. She apparently went to Germany for the weekend and to attend a charity event. No idea of what the charity event is about, and we certainly won't learn much about it from the American media.
But there are many German fans who visit this website. Let us know if you hear more information.
Posted: September 1st, 2007
Comments: 2

From: Dawn
Time: September 1, 2007, 6:59 pm
PH evidently is attending a three-day charity summit on the island of Mallorca, along with Goldie Hawn and others.
The theme is "Playing for Good", on how to best help needy children and their families.
From the German mag "Bunte"
From: admin
Time: September 1, 2007, 7:41 pm
Ah see, we didn't even hear about that here. I remember Goldie Hawn from Death Becomes Her lol.