Gripping Eyewear President speaks up about Paris Hilton
Written by VegasDeluxe.com / Edited by PHS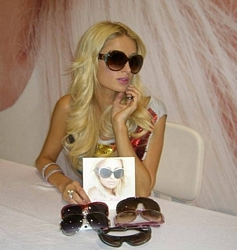 Paris Hilton has carefully crafted an image loved by her fans and headlined by the media, but she works it to keep an ever-growing spotlight on her less spotlighted business empire and interests. When she launched her debut line of sunglasses here last week, crowds waiting for her autograph and photo in the Sands Convention Center at The Venetian stretched hundreds of yards, snaking through rival booths at the Vision Wear exhibits.
When she modeled the new line of unique sunglasses with its patented magnetics that the competition can't copy until 2018, she combined it with a runway display of her fashions and accessories lines. Simultaneously, the Hard Rock Hotel fashion show poolside also was a subtle way to promote her Siren line of fragrances.
Just to give you an idea of her conglomerate's earning power, the fragrance line alone is a $200 million-plus business for Paris. The sunglass products feature 12 designs in three colors each. Working with Gripping Eyewear designers and President Jimmy Jongebloed, she was committed to the project for a year.
"This was all her — hands on. Not just licensing her name. She sketched out each one herself and developed each design personally," Jimmy told me. "We've solved the problem of forever losing sunglasses by adding a unique magnetic patent to the frames so they clip onto a jacket or a sun visor by themselves. They will be incredibly successful. Another multimillion-dollar business for the tycoonette!"
Paris added her personal decorative touches, too: a tiara, a heart, a crown, a little doggie and other icons that immediately make one think of Paris. The glasses, which will be in department stores beginning in March, will sell for $100.
"I love the look. I love what we have created, " Paris told me. "I've been wearing — and losing — sunglasses since I was a little girl. I must have thousands at home. For me, it's all about the look, be they expensive or just $10. But from now on, when we start distributing these, they will be all I need!"
Tomorrow, [VegasDeluxe.com's Robin Leach will] have [his] one-on-one candid chat with Paris about her new TV plans and continuing singing career. She's slowly changing her image from flirty, fun-loving party girl to a more serious side that reflects her tycoonette status.
Posted: October 5th, 2009
Comments: 3

From: Benji
Time: October 5, 2009, 8:56 pm
"Tomorrow, [VegasDeluxe.com's Robin Leach will] have [his] one-on-one candid chat with Paris about her new TV plans and continuing singing career."
That sounds exciting. I'd like to know when Dubai BFF premieres, if she's doing more BFF shows, what the status is on the new show with Ryan Seacrest & hopefully a tentative release date for album #2, at least now we know we'll have a new single before Christmas!! 🙂
From: Jen
Time: October 7, 2009, 5:13 pm
I'll buy her glasses.
They look hot and I like the idea of the magnetic devise in them.
From: Benji
Time: October 8, 2009, 1:44 pm
What happened to the one on one chat? :S