Happy New Year 2011!
Wishing everyone a happy new year!
For the second year in a row, Paris Hilton has decided to spend the new year's eve with her family. Paris will ring in the new year in Cabo, Mexico.
I hope 2011 will be a more exciting and better year than 2010 in the world of Paris! I hope Paris will drop bad habits and straighten things out as she enters the next stage of her life. I wish everyone a prosperous and healthy new year!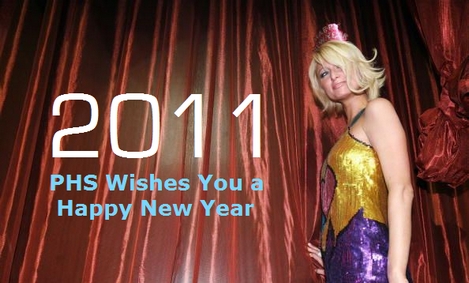 Posted: December 31st, 2010
Comments: 13

From: CrazyHilton
Time: December 31, 2010, 1:27 pm
Hey PHS ! Do You Have A Twitter ! Your Website is One Of The Best Paris Websites Ever ! I Check it Daily like Every Hour ! Its My Birthday Today !
http://community.parishilton.com/Check out the cake my family got me ! http://www.littlehiltons.com kept it on their site how sweet !
From: Jen
Time: December 31, 2010, 2:43 pm
HAPPY NEW YEAR TO PARIS & FAMILY & ALL THE MILLIONS OF HILTON FANS AROUND THE WORLD!
HAPPY NEW YEAR Enkil!
From: admin
Time: December 31, 2010, 4:39 pm
Ah, thanks CrazyHilton! Your cake is really awesome! Happy birthday and happy new year!
Unfortunately, I don't have a Twitter account!
From: Jen
Time: December 31, 2010, 7:24 pm
DO get on twitter please!
All it takes is for you to sign in once with twitter to get a password, then you can follow Paris 24/7
Paris already has almost 3.2 million followers – and they are growing every time she posts a tweet or picture.
From: Jen
Time: December 31, 2010, 7:24 pm
Twitter is FREE
From: scot
Time: January 1, 2011, 2:13 am
He already has access to Paris' twitter hence his updates regarding her tweets.
Happy New Year everyone. I like the new banner/shade of blue admin. It's great. Let's keep our fingers crossed this year is going to be massive.
Also, what do people think of Paris' former leech, I mean friend starting a music career? I think she may chart higher in the US then Paris did, maybe if the promotion for her single is better but I doubt it will do as well world-wide as Stars Are Blind did. I also predict the album is going to be a stale collection of over-produced mediocrity.
From: Nicky
Time: January 1, 2011, 7:19 am
@scot
who do you mean??????
From: admin
Time: January 1, 2011, 12:18 pm
Yeah, of course, I do have access to her account. Even if I open a Twitter account, I'd really have no time to use it. But I don't know, I don't really get the whole point of tweeting, anyway! lol
Yes, I like the new layout! Blue is my favourite color! Thanks, scot!
He's referring to Kim Kardashian. To be honest, I have to admit that Kim has been cleverly building up her brand. But of course, she would not be where she is today if it weren't for Paris. This is something that people don't realize. I'd like Kim to admit this one day, hah!
She's pretty much doing what Paris did a few years ago, except I have to admit she's doing it better at the moment. Paris unfortunately (even though it was truly a great show) started off her career with the Simple Life in which she played a character and fooled people into thinking that she's a dumb spoiled brat, whereas, I'm assuming, Kim played herself in her reality show. So it's not fair, but the reality show may be one of her reasons why people view Kim more positively. Kim is smart, and knows what it takes to build her brand successfully. So did Paris, but lately……… And Kim has never gotten in trouble with the law (as far as I'm aware). That's a plus, too.
Anyway, Paris is more international, whereas Kim is more local (US). I know Kim is trying to expand her brand worldwide. It will interesting to see how well her album will do. Maybe better than Paris' simply because people view her more positively. But did Kim ever aspire to be a singer? I know for a fact that Paris always wanted to be a singer and actress BEFORE she became famous!
BTW, I heard Kim's single. One of the passages goes like this: "Turn it up, turn it up, turn it up"!! Although the song is nothing like Paris'.
From: scot
Time: January 1, 2011, 10:24 pm
I'm glad you said that about Kim mirroring Paris' career moves. It's been annoying me a little. Especially this music thing, because Kim gave Paris shade over hers. I remember Kim was asked if she'd ever persue a music career like Paris and Kim laughed it off and said she'd never do it. And yet, here she is.
The thing that's really quite annoying is the fact that (as you said) Paris was keen to release an album and to be singer for the longest time, she spent years playing around with different genres, producers and really trying to work out her best fit. This whole Kim business has literally come out of no where.
Kim's game sadly has topped Paris'. Paris isn't as relevant as she was a few years ago and these recent events really have left a few nasty marks. You're absolutely right, Kim is viewed in a much more positive way then Paris. As we all know, that amount of negativity toward Paris is overwhelming.
I've just listened to her song to, as soon as I heard "Turn it up, turn it up, turn it up" I rolled me eyes. From what I could hear it was what I expected, basic club song. The sad thing is I think Kim's team has learnt from Paris' mistakes in regards to her promotion and will promote it better. I mean, to be honest, all Kim has to do is actually perform it. :/
All I can hope is this ignites a bit of ~friendly~ rivalry within Paris and she steps up her game. She still has the potential to come back and be just as success (if not more) as she was a few years ago.
From: Cece
Time: January 2, 2011, 2:27 am
Ofcourse people gravitate to Kim more. Shes more positive, never in trouble with the law, doesnt drink and teaches young girls to embrace their curves and their beauty. Shes a classy girl with good family values. She carries herself differently from paris.
Paris can do the same as Kim, she just needs to show tone it down and become more real. I think her new reality show will help her to do that. If the producers of her show were smart…then they would mimick Kims show, and give it that "real" feel that the kardashians are damn good at….If yall think Kim is mimicking Paris's career moves…just wait until Paris's team starts managing her career just like kims.
PS. Supposedly…Paris is pregnant….I was wondering if anyone knew about that…but its on thesuperficial.com and her belly and hips look a little bigger! Its crazy! She looks super happy too.
From: Benji
Time: January 2, 2011, 6:00 am
Paris's career has stalled because she's allowed it to. If it hadn't been Kim Kardashian to take the reigns, it would've been Nicole Richie, Kimberly Stewart, or any of the other celebutaunts. 2010 was about endless vacations & drug busts above any of Paris's brands or career moves sadly. This is because of her own choices. And if that's how she wants it, so be it. Maybe she wants to settle down & close off some of her ventures quietly? We'll see if her new show leads to anything spectacular, but I'm not holding my breath. I'll always like her but it's really hard to be an uber-fan like I was a few years back when she was so active.
From: admin
Time: January 2, 2011, 1:07 pm
I think this is a fair analysis of the situation. I totally agree with you guys. Paris won't be brought down by an outside force, but mainly from within.
I know I've mentioned this many times, and I still think about it sometimes.. The DISASTROUS incident of last August has left a real bad mark. She can't blame it on anyone else. She's responsible for it.
I agree the comments about Kim. What a smart decision for her to launch her career with the type of show she has. That's what Paris needs! Through that show, the Kardashians are able to show who they really are (or maybe portrary themselves only in a positive way).
So really, I have no reasons to really dislike the Kardashians. And yeah, Paris' new reality show seems to take the same path. She can still make a comeback if the show becomes a hit.
If I were Paris' manager/adviser, I would inspire myself from Kim's success and change a lot of things!
Anyway, I'll always be a loyal fan, but I won't support the bad behaviours that put her in trouble. And if she wants change and focus on settling down, then I'll be equally happy for her… But I still think she wants to continue her career!
From: Jen
Time: January 7, 2011, 9:58 pm
For a fan site, this place can get surprisingly negative at times – but there is no reason for it.
Paris has a new show coming out in April. If the show does well,fine, she'll sell it around the world.
If not, she'll do something else. Paris always has lots of projects to pick from.
What happened last August was a lifetime ago in terms of Hollywood. Water under the bridge. Crazier things have happened with other celebs since then.
Paris goes on and her fan base keeps growing.