Happy Paris Hilton seems to have found true love!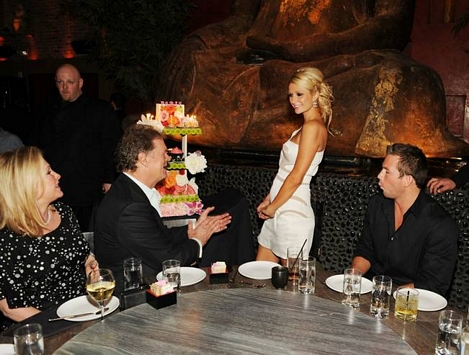 In Las Vegas, Doug Reinhardt told Las Vegas reporter Robin Leach: "The engagement will still come as a surprise in the very near future." Paris added: "We're so excited about this. I can't wait for our future together. It will be amazing."
Rumour has it that they're planning to turn the engagement, wedding planning and ceremony into a reality TV show, but that's just a rumour.
Paris also said: "I see a very bright and happy future. He's taught me how real love can feel. Everything is going beautifully between us."
"I am so happy and so in love. Of course we've talked about it all: getting engaged, getting married and our life together, and we're excited about it all. I already have my birthday wish come true in Doug, so I can only now wish to continue having another successful year and having fun with family, friends and loved ones."
I love how my parents love him. We all get along famously. His parents, my parents. It's just great because we're all family already. I even think of his sister Casey as my future sister-in-law."
About wedding plans, "we'll see what happens in the future, but right now we are so happy to be together, and we are really in love," she said.
Posted: February 22nd, 2010
Comments: 3

From: JWB
Time: February 23, 2010, 3:56 am
I recall this is what she said about b.m. Paris is in love with love, maybe not truely in love. Be careful Paris, marriage is for a long time. I wish you the best forever. JWB.
From: Jen
Time: February 23, 2010, 7:22 pm
I wish them the best too.
From: juju
Time: February 25, 2010, 2:41 am
yeah she always says the same thing about every guy. i still see absolutely no chemistry between those 2. doug is just sort of a boring, non-descript lump with no personality. hopefully this latest chatter about engagement isn't becasue nicole and joel m. are now officially engaged. maybe he's an ok boyfriend, but definitely not husband material. he can't live off his family's money forever.
since she has tried to revamp her image to be more conservative, paris is becoming boring and losing the spark & edge that made her unique. her fashion sense has morphed into frumpy, "house wives of orange county meets grandma." why exactly is she always wearing wrap-dresses and black tights?
I miss the original paris. now, she's trying too hard to be something different.
what exactly does doug do now any way?