Kathy Hilton - Star of The World According to Paris
Biography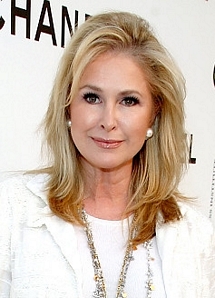 Kathy Hilton married Rick Hilton, chairman of Hilton & Hyland in Beverly Hills, at the age of 19 and had her first child, Paris at the age of 20. The couple has three other children, Nicky, Barron and Conrad. Kathy currently divides her time between Los Angeles and New York.
In 2002, Kathy hosted "Many Splendid Things" on QVC, an extremely successful show selling out all items from 11 of the 13 products sold -- some in a matter of minutes during the hour-long segment. The show went on to air in Europe. More recently, she has hosted shows on HSN.
Juggling the demands of motherhood and a thriving career as a lifestyle entrepreneur and television personality, Kathy also remains active in various charitable organizations. In March 2007, she was honored at the Women's Project 22nd Annual Women of Achievement Gala, where she was named Woman of the Year. She was also given the honor of presiding over the NASDAQ on behalf of the organization. She is an active committee member with Race to Erase MS and has been involved with the charity S.H.A.R.E. for the past 12 years. Kathy most recently served as a co-chair for the Hearst Castle Preservation.
In addition, Kathy is involved with the Rita Hayworth Gala and City of Hope. She also works with the Los Angeles Mission, House of Ruth and is very involved with the Make-A-Wish Foundation. Kathy hosts numerable events with the children at her home from Easter egg hunts to Christmas parties. For the past two holiday seasons, she has put together a celebrity auction benefiting the Make-A-Wish Foundation, named the "Kathy Hilton Wishing Tree," and plans to continue to forge unique and creative ways to help raise money for the many charities in which she is involved. One such endeavor is her new store in Los Angeles, Designer Archives, where a portion of profits are going to benefit different causes throughout the year.
While being extremely active in the community, it is in her role as wife and mother where she finds her deepest sense of self. Kathy's motto is: "Making a difference in the world includes being positive and a good person, not to be judgmental. Be a listener. Stop and smell the roses. Be thankful and positive and thank God everyday for your blessings."