Kathy Hilton's My Secret Collection

Eau Parfum - Body Lotion - Shower Gel - Ageless Skin Set - Firming Face and Neck Spa Beauty Treatment - Hot Effect Thermal Sculpting Beauty Body Treatment
In Fall 2007, Paris Hilton's mother, Kathy Hilton, released six type of different beauty products under her own "My Secret" collection. Kathy's collection has been very well-received by customers with many praising reviews.
My Secret Perfume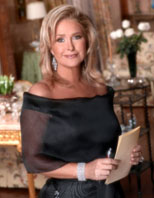 Elegance. Sophistication. Words synonymous with My Secret by Kathy Hilton, a captivating light, clean, floral fragrance that captures the mysterious secrets of life through a blend of pure, natural ingredients. Perfect for day or night My Secret by Kathy Hilton was inspired by the delicate aromas experienced through her travels around the globe and delicately fusing them together to give you in an intimate and personal scent.
Top Notes: The fragrance opens with a captivating splash of mandarin, sheer white freesia and delicate peony flower.

Middle Notes: The heart blooms with a sophisticated bouquet of roses, star jasmine and apricot leaf.

Base Notes: The dry-down emerges as a soft, sensual medley of sandalwood, vanilla musk and gilded amber.
Anti-Wrinkle Cream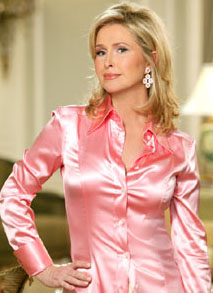 One of the most popular products from her My Secret collection is a Purebotanical Anti-Wrinkle cream that helps reduce the appearance of wrinkles, expression lines, crow's feet and wrinkles around the eyes and forehead. The Anti-Wrinkle Cream also helps ensure a healthy and youthful appearance by making the skin look and feel softer and more vibrant.
Review
"It's great to get a cream that can be used for face, eyes and neck. I love the texture and smooth application, but best of all it works to lessen the appearance of lines and wrinkles. In fact it works as well or better than a super expensive cream (Dr Perricone) that I purchased from another shopping network. I would like to see the Kathy Hilton Anti-Wrinkle Cream offered in larger sizes. As for the perfume, it's in a cute bottle and I will give it to my daughter for Valentine's Day." - Gwen, FL, 1/19/2008, HSN
Purchase from Kathy Hilton's My Secret Collection
Please note: My Secret collection is not related to Paris Hilton in any way. These are Kathy Hilton products, supported by Paris Hilton.

Special Thanks
Transvital (Producer of Kathy Hilton's perfumes)
Kathy Hilton Fragrance (Official Site of Kathy Hilton's My Secret Collection)