Nicky And Stavros Visit Paris Hilton In Jail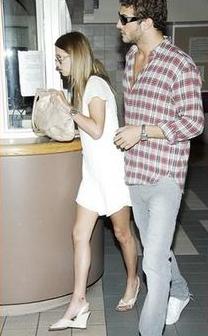 Paris Hilton's sister Nicky and ex-boyfriend Stavros Niarchos bypassed a line of visitors Sunday and were ushered through security to see the jailed heiress singer.
Nicky's boyfriend David Katzenberg drove the pair to the Twin Towers Correctional Facility's medical ward. They entered through a crush of photographers, filled out visitation forms, and spent a half-hour upstairs before leaving without talking to reporters.
Other visitors grumbled that they jumped the line.
"We don't care about no Paris Hilton," said one upset mother. "We're here for our families."
Said another relative, "Why did they get to go up first, that's what I want to know?"
Sheriff's spokesman Steve Whitmore denied the pair got special treatment.
Nicky Hilton and Niarchos were the first family or friends admitted as visitors since Hilton was sent to the locked-down ward Friday after a brief reassignment to home confinement because of unidentified medical condition. Hilton was visited Saturday by her psychiatrist.
Hilton, 26, originally surrendered June 3 to a women's jail in Lynwood, Calif. She says she will not fight her sentence and serve out the remainder of her minimum 23-day term for violating probation in alcohol-related driving case for driving with a suspended license. With time off for good behavior, she could leave in just over two weeks.
The audio/video associated with this article is unavailable.
People
Posted: June 10th, 2007
Comments: 2

From: Trevor
Time: June 10, 2007, 6:43 pm
That was so nice of them =)
From: inexcuseable.com
Time: June 10, 2007, 8:52 pm
Interested to see what she says after she comes out. Gonna complain about the toilets? The food?