Nothing in this World

In September 2006, Warner Music released Paris Hilton's second single "Nothing in this World," which did not achieve by far the same success as "Stars Are Blind" did. It definitely flopped on music charts in America and Europe. Many blamed its failure on Paris Hilton because she did nothing to promote it, and she hadn't even done a single performance for any of her songs. It seemed that Paris took a few months of break after the release of her album "Paris." Only time will tell if she'll ever perform live as her music fans want. The song reached a disappointing #89 on Billboard's Pop 100 and #12 on Hot Dance Club Play. Although it is worth mentioning that it found great success in Asian countries such as Thailand peaking at #1 on MTV Thailand, and #2 on MTV Asia.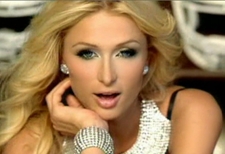 The problem of Nothing in this World goes beyond than just a mere failure. Everything sort of went wrong after her album released. It's almost a fact that September 2006 was one of Paris' worse months in 2006. After filming her music video for Nothing in this World, she was arrest for driving under the influence. The sales of her debut album were not as good as everyone had expected it to be, which is very unfortunate for Paris. Her fans also expected her to go on tour soon, but that still hasn't happened as of December 2006. We know that everything was rushed out and her record company, Warner Music, was forced to release her album earlier, but Paris wasn't really ready, and she was still choosing her dancers and practicing her dancing moves. It is not clear whether or not Paris was actually ready for a tour or if it was postponed due to her low album sales. But she still insists that a tour will come and that a second album is in works.
Purchase Nothing in This World CD from Amazon.com
Music Video
The music video was shot by Scott Speer on September 5th and 6th, 2006 in Long Beach Polytechnic High School, in California and in Pasadena, in Los Angeles. It is inspired by the teen-flick "The Girl Next Door" in which Paris plays a sexy starlet loved and adored by a neighbor, a Paris Hilton obsessed fan. Elisha Cuthbert, who was the star of the movie, also makes an appearance at the beginning. The video first premiered on September 22th as an AOL First View. It also premiered in Canada on MuchMusic.
It's clear that the music video was quickly produced and was not taken very seriously. Actually, many fans and haters liked the video a lot, and thought it was quite funny. But it's just that it wasn't as big as Stars Are Blind, mainly because they didn't come up with something original. All Paris did was film it, and just release it on AOL First View, and wait for other music channels and radio stations to play it. Absolutely zero promotion was done for it by Paris. We only saw her play it in her car while she was driving with her friends. And the fact that she hadn't done anything for it, and was only smiling and partying disappointed and angered many of her music fans.
Chart performance
| | |
| --- | --- |
| Charts | Peak |
| Singapore | 1 |
| Costa Rica | 1 |
| Ecuador | 1 |
| Poland | 4 |
| Bulgarian Airplay Chart | 7 |
| Latvia | 15 |
| Colombian Singles Chart | 32 |
| Romanian Top 100 | 26 |
| Brazil Dance Chart | 8 |
| Dutch Top 40 | 20 |
| Algoa FM (African) | 2 |
| MTV Thailand | 1 |
| MTV Asia | 2 |
| Sweden | 36 |
| Radio Express World Chart top 40 | 22 |
| Australian Top 50 Singles | 32 |
| ARIA singles Chart | 7 |
| Finland Top 20 | 7 |
| Venezuela | 1 |
| German Top 100 Chart | 34 |
| U.S. Billboard Pop 100 | 89 |
| U.S. Billboard Hot Dance Club Play | 12 |
| UK Singles Chart | 55 |
| UK iTunes Chart | 59 |
| VH1's Top 20 Countdown | 5 |